UK steel crisis could force car makers to shop abroad
Tata steel plant closures would mean Nissan and Vauxhall need to import steel for models currently built with UK supplies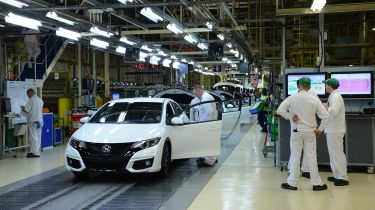 Car manufacturers with factories in the UK could be forced to shop abroad for steel to produce their biggest sellers as the British steel industry faces meltdown.
Up to 40,000 jobs at bases in Port Talbot, Rotherham, Corby and Shotton could be axed after Tata announced it was selling all its UK businesses. The UK steel industry has been hit heavily by cheap imports from China.
Nissan, Vauxhall, MINI and Jaguar Land Rover all confirmed to Auto Express they currently use UK steel for production of some of the nation's biggest selling models.
Nearly half of steel used at Nissan Sunderland where the Qashqai, Leaf, Juke and Infiniti Q30 are made is sourced from Port Talbot alone.
• Car clocking: is mileage correction legal?
A Nissan spokesman said it doesn't anticipate any disruption to production if steel plants are closed, however, he added: "Raw materials and parts are sourced for all Renault-Nissan plants in Europe through our Alliance purchasing organisation.
"This year about 45 per cent of the steel required for production in Nissan Sunderland Plant is sourced from Port Talbot, and the rest from mainland Europe."
Vauxhall relies on Tata to supply "a significant amount" of steel to its two UK plants in Luton and Ellesmere Port, too. Vauxhall uses the high-strength steel with specially developed coatings made by Tata in its 2015 Astra. This specialist steel has allowed the new model to be stripped back in weight.
• Birmingham tops list of UK crash for cash hot spots
A Vauxhall spokesman added: "We are currently considering the scenario of UK steel plant closures on supply sources. There are a number of sources of steel available in Europe that are used by our plants in Spain, Germany and Poland."
Jaguar Land Rover - owned by Tata - also uses UK steel in the production of its cars but stressed that although it's part of the Tata family, it is a standalone organisiation and not part of the steel business.
MINI, with its plant in Cowley, Oxford, said it uses a mix of UK manufactured and imported steel from various suppliers for production of its models which include the five-door hatch.
What do you think about the impact the steel crisis will have on UK car manufacturing? Join the debate in the comments section below...