Best car dealers 2019
As part of our Driver Power survey, you've given your verdict on UK dealer networks. We reveal the best and worst...
The impact that dealers have on our new-car experience cannot be overestimated. From the moment we walk into a dealership, most of us are making judgements. How clean and tidy is it? Are staff approachable, and keen without being pushy? Do they knew their product? How willing are they to offer a test drive?
Many of us decide whether we will buy from a dealer within the first few minutes, and good salespeople can make the process positively enjoyable. After all, aside from a house, a new car is the most significant purchase most of us will ever make, so why shouldn't it feel a bit special?
But after the excitement of the sale and unveil, does the after-sales experience match up to the initial promise? Are services easy to book? Are any teething problems quickly and efficiently handled? Simpler than that, do staff answer E-mails and return phone calls in a timely manner?
The Auto Express consumer desk hears tales of both woe and praise from readers, with some customers swearing to not set foot in a brand's showrooms again, and others saying they would never buy from another dealership, let alone brand, based on how well they had been treated.
Below we highlight what life is like in the world of the franchised dealership once the initial purchase has been made, with our results based on feedback from thousands of readers.
We asked you to rate your dealers in seven specific areas, taking in subjects like whether there was good parking, how clearly work was explained, if staff were friendly once they had your custom, and if labour rates and parts' prices felt fair.
So read on to find out which brands' dealers take care of you, and which need more polish if they're to live up to the promise made by some of the fantastic new cars that are available today.
Biggest complaint you had with your dealer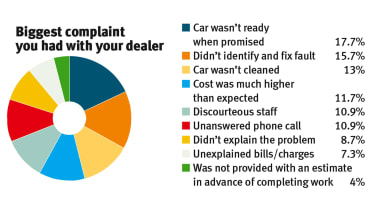 The vast majority of you had no specific gripes with your dealer over the last year, with 88 per cent lodging no particular issues. But that still means more than one in 10 owners experienced a problem significant enough to tell us about it.
Cars not ready on time caused the greatest proportion of issues, and the ability of workshop staff to identify and fix glitches prompted the next highest number – worsening the inconvenience of having a problem in the first place.
And, given that in many cases dealer staff had your car for longer than they said they would, the fact a significant number of you complained that your car wasn't clean when it was returned can't have contributed to a positive experience.
Staff courtesy was another area where you wanted improvements, but the process around bills, estimates and charges was generally felt to be okay.
Reasons you chose your dealer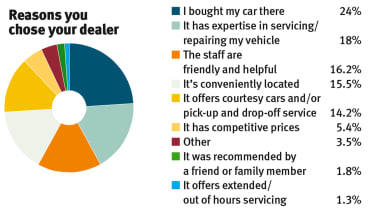 Loyalty and convenience are big reasons for your choice of dealer – almost 40 per cent of you simply return your car to the dealer you bought it from for servicing, or pick a garage because it's nearby.
Dealers who offer a pick-up and drop-off service are likely to attract business from a decent proportion of customers, while another big reason you gave for using your dealer was because you felt the staff would have the expertiseto look after your car. The importance of friendly employees should never be underestimated, because this was another key reason for choosing a dealer.
Perhaps the most surprising aspect of this analysis is how little importance you attach to price: it seems many of you are willing to pay a little extra to get the service that you expect.
What type of service was performed?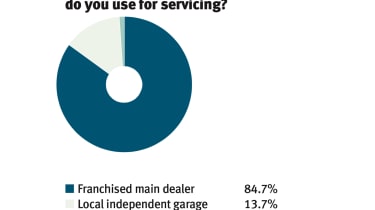 It's reassuring to see that most dealers are only turned to when a service is due, or when you need a new set of consumables, like brake pads or windscreen wipers.
Routine maintenance isn't the only reason you'll call upon a dealer: 12 per cent were forced to call in (or be towed in) following an accident or breakdown.
And while EU rules prevent manufacturers from invalidating the warranties of owners who use non-franchised dealers, it seems the vast majority of you like the added reassurance a main agent brings.
Best car dealers 2019
1. Lexus – 92.21%
The scores that Lexus posts in taking top spot are nothing short of ludicrously good; so good that they even eclipse sister brand Toyota's achievement in second place. Aside from value for money – where they came a reasonable fifth – Lexus dealers come first in every one of the categories you rated them on. It's not just the raw data that impresses, however: turning to the comments Lexus owners entered in our survey reveals compliment after compliment, with complaints few and far between. It would be almost impossible for an organisation to do better, and we can't remember the last time we saw such a clean sweep in Driver Power results.
Case study: James McClean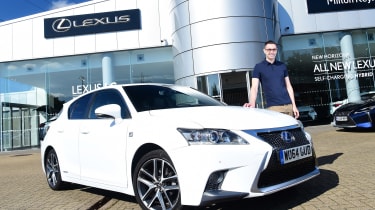 Lives: Near Millbrook, BedsDrives: Lexus CT 200h
Web developer James bought a 2014 Lexus CT 200h F Sport from Steven Eagell Lexus in Milton Keynes in September 2016, and from the very start the staff were polite and friendly.
Throughout the whole process, James was impressed with the dealer's friendly and professional attitude. He told us: "I've always found Lexus dealers have really nice, helpful, normal people. The salesman that I dealt with was super-helpful and answered any questions I had, both in person and via E-mail.
"Nothing could have gone more smoothly than it did, even to the point where I said 'This is my budget, this is what I want' and it all came together exactly as I'd hoped.
"It's been the same since with any after-sales – they're very good at following up afterwards and making sure that you're happy with everything. It's a really good level of support."
James's experience with his Lexus dealer echoed our Driver Power data, because he found the outlet a pleasant place. "They refurbished the showroom about six months ago, so it's all nice and new, with funky chairs and big screens. And they have a few little offices you can use if you need a space to work while your car is being serviced." 
Owner's view: "Fantastic service, from the receptionists who greet you, to the service team and those on the forecourt upon leaving." 
2. Toyota – 88.54%
You only need to look at the graph above to tell that Toyota franchises are a cut above the rest. The firm's dealers take a well deserved silver medal in this year's survey, with not a single worrying score in any category. True, perhaps outlets could have more courtesy cars on hand, while prices could come marginally down – but we're splitting hairs to find anything negative to say, such is the praise you have. You want plush facilities with ample parking? Need good communication, speedy work and courteous staff? Head to a Toyota dealer. A deeply impressive result, and one only tempered by the staggering scores posted by our winner. 
Case study: Lesley Donovan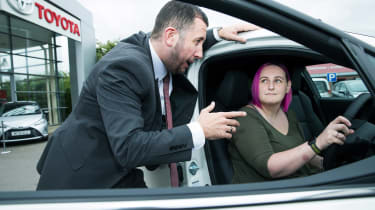 Lives: County DurhamDrives: Toyota C-HR
Lesley Donovan picked up her brand-new Toyota C-HR just a few weeks ago, and doesn't have a bad word to say about her dealership experience.
Lesley, who lives in Crook, County Durham, bought her car from a Toyota showroom in Essex because the dealer there had exactly the model she wanted in stock; and she was immediately struck by how efficient all the staff were at keeping her up to speed with her order.
"We phoned them up and they were brilliant," she told us. "They constantly sent us messages and kept us updated [about what was going on]."
That level of positivity continued when Lesley went on to visit the dealership in person. Here she found a level of service that was more impressive than any she had experienced in other showrooms before.
"The staff came straight up to us and asked if we wanted tea or coffee. They did everything they could to make us feel comfortable and welcome. They went through everything and told us to give them a ring if we had any questions," she explained.
In fact, Lesley visited a number of different franchised Toyota dealers, including her local Durham showroom, while looking for a car, and she was happy with her experience at every single one of them.
"Toyota dealerships always seem to be nice buildings with friendly staff," she continued. "They're straight to the point and ready when you are. It was a totally different experience to what I've had in other dealers.
"The reception staff seemed really friendly and the salesperson was really good as well. Their communication was very good. They keep you informed about progress."
Owner's view: "Staff are helpful and always call you back. I get talked through the report after any work is done and they always valet my car."
3. Subaru – 87.70%
Placed ahead of Honda by the narrowest of narrow margins (0.01 per cent), Subaru dealers provide good access to courtesy cars, easy-going staff and fine facilities. One thing they don't offer, though, our readers said, is value for money – Subaru dealers rank 22nd in this area. Given the firm posted a similar result – a high overall mark with a low score for running costs – in our Driver Power brand survey in April, it seems deep pockets are something of a prerequisite for running a Subaru. But, if you can set aside a reasonable budget, this decision should pay dividends; in almost every other area, owners have nothing but praise for Subaru dealers. 
Owner's view" "A member of staff travelled 90 miles to collect my car and drop off a courtesy car, then returned the next day to swap again."
4. Honda – 87.69%
A set of near-universally positive marks see Honda's dealers narrowly miss out on a medal, but fourth place is not to be sniffed at. An excellent score for value for money helps the brand maintain its top-10 dealer presence, aided by excellent marks for communication, highly rated dealer facilities, and an impressive standard of work from the brand's service centres. If we're griping (and with no category score being lower then eight, we are) Honda staff could be a little more friendly, while the firm's dealers could have more courtesy cars; owners were pretty happy in this area, but not as happy as owners of some other brands. 
Owner's view: "I drop my car off for a service after work at 5pm and leave in a courtesy car, before returning the following afternoon." 
5. Kia – 87.10%
We're getting close to the top of the rankings here, so it's no surprise to see some deeply impressive scores come from Kia owners. No other brand's dealers offer better value for money than these, and that's backed up by a strong score for staff communication. Kia dealer staff are also courteous, with a sixth-place result in this area one to be proud of. Work in Kia's workshops is also carried out to a high standard and, even in areas where improvements could be made, scores are never below average. A shortage of courtesy cars is responsible for Kia dealers' lowest score, while franchise facilities could also be plusher.
Owner's view: "There was coffee and food, and we were sent a video of the mechanic surveying the car. Everything was spotless."
6. Suzuki – 86.69%
Another small dealer group with a big-hitting score, Suzuki outlets impress with their high standards of communication, and the quality and speed of work carried out. Workshops get cars repaired and serviced in good time, offer strong value for money, and carry out work to a high standard. You also highlight that bills are explained clearly, and staff keep you informed about the charges and progress being made with work. Suzuki dealers could do with more courtesy cars, while facilities are felt to be strong rather than stellar, so this prevents the brand's dealers from rising higher. Still, sixth place is an impressive result.
Owner's view: "I was treated with respect, not as a number. The facilities were excellent and the staff kept me updated on the service."
7. MG – 86.61%
If you're happy to put up with the limited parking and not particularly comfortable collection areas, and don't mind the lack of a courtesy car, then there's almost nothing not to like about the MG dealership experience. Courteous staff who complete work to a high standard give the brand's best scores, and the picture in other areas is similarly impressive. Work is carried out quickly, workshops and dealers offer good value, and communication is impressive. MG's small network means it's easy for the company to ensure franchisees get things right, but that doesn't detract from some impressive scores, and ones that larger companies would be eager to replicate.
Owner's view: "They have been excellent since purchase. I have had some issues with my car, but they were all sorted to my satisfaction."
8. Citroen – 86.46%
As the highest-rated company within the PSA Group, Citroen should be a model for Vauxhall, DS and Peugeot dealers to learn from. Staff are almost impeccably courteous, while workshops are impressive all-round, being fast to complete work (which is carried out to a decent standard) and offering good value. Communication could be a little better at dealers, you say, with a lack of information on the cost and the progress of work responsible for the relatively poor score in this category. Dealer facilities get the lowest category mark, though: you say parking is tight, and add that waiting areas and car-collection zones could be more comfortable. 
Owner's view: "On every occasion I've visited the dealership, the work has been completed by the time stated, if not even earlier." 
9. Volvo – 86.40%
No change for Volvo, which places ninth for the second year running. Smashing dealer facilities and freely available courtesy cars are responsible for Volvo dealers' highest scores – you say the firm's franchises are impressively comfortable and clean, while there would appear to be decent communication when your car is being worked on. You're also taken with the value offered by Volvo dealers, and are happy with the standard of work they carry out. Most of you seem pleased with how long maintenance and repairs take to complete, too. Volvo dealer staff could do with being a little more courteous, though, according to our readers. 
Owner's view: "They dropped us off to go shopping while the car was serviced, then rang and collected us when it was finished."
10. Skoda – 86.19%
Skoda is the most humble brand within the Volkswagen stable, but its dealers post stronger results than any other VW Group firm. Getting the negatives out of the way first, you're only averagely pleased by the value for money offered, wouldn't mind work on your Skodas being completed more quickly, and could do with more courtesy cars being on-hand – although no individual score stands out as disastrous. In all other areas, Skoda dealers are strong: staff communication and courtesy are great, and the same can be said for the quality of dealer facilities that are available, as well as the standard of work carried out on your cars.
Owner's view: "There's plenty of space for customers' cars and you can always find somewhere to park, despite it being a busy dealership."
Worst dealers 2019
27. Mazda – 82.60%
A disappointing result for Mazda, whose dealers placed 24th last year, but slump three places in 2019. Owners save their lowest scores for the facilities on offer, complaining showrooms don't have enough on-site parking, while waiting rooms and collection areas were not deemed to be comfortable. Poor communication from dealer staff was another factor, with the lowest individual score in this category being for how much garages told you about how well work on your cars was going, and how much it would be expected to cost. You don't judge Mazda dealers to offer stellar value for money, and say courtesy cars are not as easy to access as you'd like.
Owner's view: "When I went to collect my car I found it had been damaged by the mechanics, so it had to be sent to the bodyshop." 
28. Nissan – 82.46%
There isn't that much good news to report from those of you who visited a Nissan dealer in the past 12 months; not one area stands out as positive, and there are plenty of scores right near the bottom end of our rankings. Drilling down into the data reveals parking spaces at Nissan dealers are said to be at a premium, while you say you're not being kept informed of the work being carried out on your cars. Given that the Qashqai was the fourth best-selling model in 2018, those figures indicate that a high number of buyers are not having as good a time as they might when they need to visit their Nissan dealer over the course of their ownership.
Owner's view: "Car was collected from my home and returned dirty, with oil on the driver's side window, plus much of the fuel had been used."
29. Dacia – 82.30%
Dacia has the most affordable new cars out there, but you still have a right to expect a reasonable level of service in its dealerships. Unfortunately that's not the case, according to our survey data. You say that the work on your Dusters, Sanderos and Logans isn't done to a high enough standard, that Dacia's dealer facilities aren't particularly clean or tidy, and that courtesy cars are hard to come by. There's no denying dealers offer good value for money, but given that staff courtesy was rated badly and was behind most of the gripes you had with outlets, we'd say this is an area that the firm needs to look at as quickly as it can.
Owner's view: "Rude staff told me rather abruptly that the work would not be carried out under warranty, even though it was covered."
30. Land Rover – 81.88%
We are sorry to see Land Rover repeat its 2018 performance and appear near the bottom of our rankings. While the dealer facilities and courtesy cars get reasonable scores, the firm's dealers finish last in three of our seven categories. Communication, the standard of work carried out, and the time it takes for it to be completed are the worst-ranking areas. Given that Land Rover was the bottom-ranked company for reliability in our brand survey earlier in the year, and 34 per cent of owners with dealership gripes said that these related to fault-finding and fixing, Land Rover outlets appear to be dealing with a perfect storm of maintenance woes. 
Owner's view: "Nothing is ever achieved in the first visit – it usually takes three to get them to understand the problem and effect a remedy."
31. DS – 81.00%
DS span off from Citroen as a standalone premium brand, but its first appearance in our dealer poll sees it finish bottom or second-from-bottom in four of our seven categories, with value for money and staff courtesy the worst areas. As poor a result as that is, it should be noted respondents completed the Driver Power poll between October last year and May 2019. With DS moving to dedicated Salons in July 2018, these results may relate to customers visiting Citroen dealers and not receiving the premium experience they expected. Given the work that parent firm Groupe PSA has put into DS recently, though, we expect these results to improve in 2020. 
Owner's view: "Shabby waiting area with not much reading material, while what was there was out of date. Plus the TV didn't work."
Now see the best cars to own 2019, compiled from Driver Power data…