Driving on the right: we take our left-hand drive test
Worried about driving safely in Europe? We take a test designed to improve your holiday driving skills
On your annual summer holiday to do list, researching how you're going to manage driving on the right hand side of the road probably doesn't rank too highly. Provided you are travelling abroad, you'll probably start by booking the essentials like flights, accommodation and car hire. Next, you'll spend hours poring over guidebooks and websites for tips on sightseeing spots and places to eat. But then the realisation that you need to drive on the wrong side of the road dawns – but there is no need to panic.
A poll of website users by comparison site Skyscanner uncovered the shocking truth that a third of Brits who hire cars on holiday can't be bothered to check up in advance on the road rules and regulations in the places they're visiting. Interestingly it also revealed that a quarter of us are nervous of driving on the wrong side, and a quarter would also be happier for our partners to do the foreign driving chores.
It's an odd situation, as British motorists spend hours learning the Highway Code to pass theory and practical tests, yet appear happy to unleash themselves – and their families - on unsuspecting foreign communities without even checking up on local speed limits.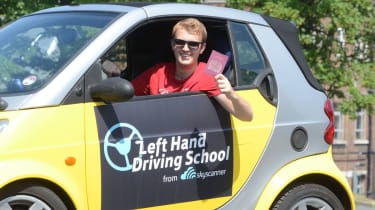 Skyscanner believes its Left-hand Driving School could be the solution, and early indications are that it could be rolled out nationally. The company asked for applicants to take part in a trial day and a massive 1,000 interested drivers responded. Auto Express was lucky enough to get a spot on the unique test day and find out more about Skyscanner's bright idea.
Held on an empty military parade ground in south-east London, it was all about getting to grips with left-hand driving and understanding how to cope with the differences.
We handed over our licence and jumped aboard the left-hand-drive Smart ForTwo alongside instructor James Buckman. There's a marked route on the ground with a couple of roundabouts, left turns and parking bays – the three things people find hardest about driving on the opposite side.
There are also seven foreign road signs to test our knowledge and give a taste of the kind of info on offer from Skyscanner's new driving abroad handbook, which is available free online.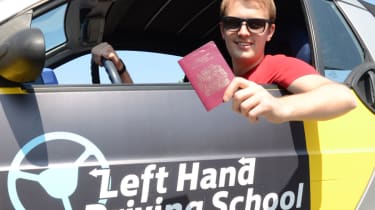 James explains the basics of foreign driving as we make our way around the course – ensuring we check our mirrors and signal correctly. It's not a bad refresher to sharpen up your UK driving skills, too, as most of what you're taught is similar to the things you'll learn as a novice.
The major difference is when we're turning left and having to cross traffic – the natural reaction is to check your passenger-side mirror and just turn without looking for oncoming vehicles. If you did this abroad, you'd be lucky not to crash.
• Holiday car hire: how to get the best deal
It's a similar scenario approaching a roundabout, where you have to teach your brain to check left for cars rather than just looking right. After a few attempts, it becomes straightforward, although as there are no other cars around it's hard to really replicate driving abroad. Having said that, getting acclimatised to the inverted situation in a safe environment is priceless for when you do reach foreign roads.
Nicole Whiting, 38, was one of those attending the trial day and is hoping it'll give her the confidence to hire a car when she visits friends in Italy. She told Auto Express: "I've always thought it would be great if I could have some lessons as I like to be prepared. I was a bit apprehensive before I got here, but I thought the lesson was excellent."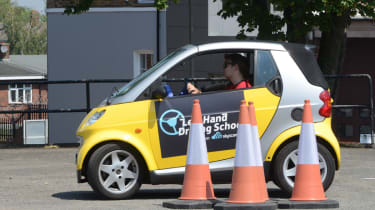 Nicole, from nearby Clapham, has been driving for some years, but never felt happy hiring a car abroad. "I see friends do it and think I could do that, but then something happens and I'm not so sure," she said.
Mike McLean, 25, from Camden, north London, was another one preparing for a trip abroad, this time to take his newlywed on a US road trip for their honeymoon. He said: "I found this really useful. I feel a lot more confident to go out and drive after learning about the signs and having some practice with the instructor."
Around two-thirds of countries in the world drive on the opposite side of the road to the UK, so the market for left-hand driving lessons is certainly there. Nicole added: "I really think if it could be turned into something more permanent it would give people confidence – even if it was just in the spring or summer. And Skyscanner has had interest from Germany, too, suggesting there's room to expand this project by offering Europeans a course for how to drive over here.
Skyscanner spokesman Thomas Homolka said: "Our research shows it is quite a big topic. We see this as a test and we had quite a big reaction. If it was successful, we could look to roll it out nationally. We'll definitely take a look.
"Drivers seem to have been quite happy, which is great. It will give them confidence for their next trip."We certainly feel better prepared and wonder why it's not the norm for holidaymakers to do the same.
Do you know your foreign road signs?
Look at the picture below. Do you know what these foreign road signs mean? The answers are at the bottom of this page.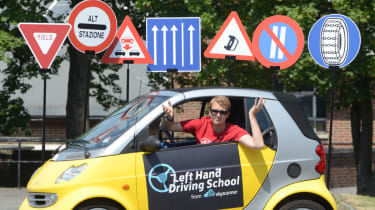 Top tips for left-hand driving
Here are our top 5 tips for driving on the other side of the road…
1. The centre line
Drivers tend to drift towards the pavement, so ensure you're staying in lane by lining up the central road marking with the left-hand corner of the windscreen. If there are parked cars on your side, line up the road marking to the steering wheel.
2. Plan your journey
Road signs can be confusing, so plan your journey before you leave and have a co-driver to give directions and read signs so you're not distracted from the road.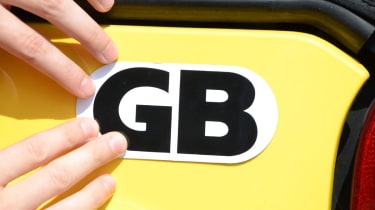 3. Dual carriageways
Stick to the right-hand lane as this is the normal driving lane – as opposed to the left-hand lane in the UK. And when joining the road, it's important to remember that the correct blind spot will be over your left shoulder, too.
4. Turning left
You'll be cutting across the traffic in this manoeuvre, so give way to oncoming vehicles – just like a right turn in the UK. Don't cut the corner when turning into a side road, either.
5. Roundabouts
You'll need to give way to the left rather than the right at roundabouts, and remember to signal right when exiting, too.
What if you're taking your own car abroad?
Driving abroad can be less daunting if you're at the wheel of your own car – at least you only have unfamiliar road signs and markings to contend with. But there are still some key things to remember.
• Airport parking: top tips for a cheap deal and safe storage of your car
Obviously the driving position will be familiar, but you'll be on the opposite side of the road, so remember to check the correct mirror and blind spot.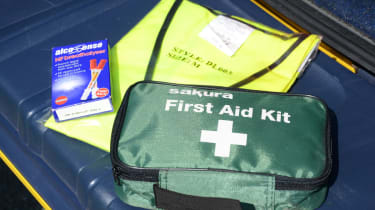 If you're taking your own car – and not renting a LHD one – you'll need to fit a GB sticker, plus headlamp deflectors to direct the beam away from oncoming traffic. In most of Europe you'll also have to carry a warning triangle and a hi-vis jacket. A first aid kit is compulsory in Austria and recommended in Belgium and Germany, while the law in France dictates drivers carry an NF-approved breathalyser. A lot of this equipment is bundled together in European travel kits.
Do you know your foreign road signs? Answers. From left to right: 1. Give way (US) 2. Stop and pay toll (Italy) 3. Oncoming vehicles on the motorway (Austria) 4. Use the hard shoulder as a lane (Germany) 5. Accident ahead (Spain) 6. No parking on 'even' days (Austria) 7. Snow chains compulsory (Italy)
Driving abroad: everything you need to know