Honda Civic 1972 vs Honda Civic 2015
Out of Honda's entire product portfolio, few models have shown as much progress as the Civic.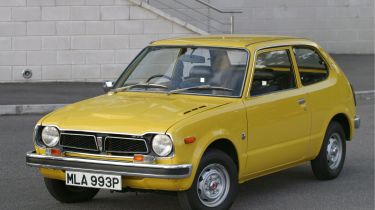 1972 Civic
Price new: £1,059
Length: 3,551mm
2015 Civic
Price new: £15,975
Length: 4,370mm
Out of Honda's entire product portfolio, few models have shown as much progress as the Civic. It started life as a humble supermini way back in 1972, and more than four decades later, it's been transformed into the fastest front-wheel-drive hot hatch on the planet in the form of the new Type R.
The Civic has been in production for 43 years and nine generations. An all-new 10th-generation model is in the pipeline for 2017.
The original car initially arrived as a three-door hatchback, with a more roomy estate version following later on. With each successive model, the Civic grew bigger but more fuel efficient – thanks in no small part to the brand's innovative CVCC lean-burn engines.
If you compare the first version to the current Civic, you'll find a huge 819mm difference in overall length.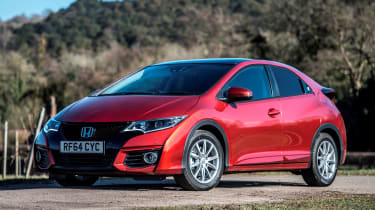 A huge milestone for the Civic came in 1994, when production of the hatchback was moved to Honda's facility in Swindon, Wiltshire, where the car's still built today. Since then, the Japanese manufacturer has invested over £1.5billion in the UK plant.
The arrival of the Mk8 model in 2005 demonstrated real progress, and is perhaps considered the most significant period in the Civic's history. Out went the traditional five-door hatchback design of the Mk7, and in its place came a dramatic and futuristic look of the kind never before seen on a family hatch.
With boomerang-style headlights, triangular exhausts and a coupé-like roofline, it demanded that buyers stand up and take notice – at a time when rivals such as the Ford Focus and VW Golf were beginning to dominate sales charts.
Plus, it looks as though the all-new Civic, due in two years' time, will be taking on another more radical look, to ensure it can remain competitive in such a crowded sector.
In today's style-conscious market, image will be a top priority – and there is also talk of an even faster Type R, delivering up to 350bhp.
Fast Hondas Special