Formula E tech to power all-electric Mercedes-AMG follow-up to Project ONE hypercar
The successor to the Mercedes-AMG Project One could get electric power developed in Formula E by 2025, according to Mercedes boss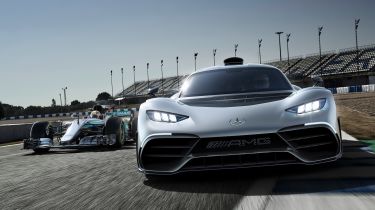 Mercedes could follow-up the arrival of the new Formula 1 powered, 986bhp Mercedes-AMG Project One with the introduction of a flagship all-electric hypercar, which would also borrow technology developed by the firm's motorsport division.
Speaking to Auto Express at the Frankfurt Motor Show reveal of the Project One, Daimler A.G chairman of the board and head of Mercedes-Benz, Dr Dieter Zetsche, revealed that the firm is poised to adapt Formula E technology into a road-going, all-electric package.
With the firm targeting a quarter of its sales to be all-electric by 2025, and with a Mercedes-AMG Formula E entry planned from the 2019/20 season, Dr Zetsche sounded out a potential marriage of the two plans, with a new all-electric car boasting similar levels of performance and desirability to the newly revealed Project One.
Dr. Zetsche called the Project One "a strategic decision which describes AMG for the future.
• Best electric cars to buy now
"We have very specific plans how electric components go from 48 volt to mild-hybrid, to plug-in hybrid, then to full-electric and how this applies to performance vehicles as well."
Asked if Formula E technology could power an all-electric Mercedes-AMG performance flagship, Zetsche added: "it's not an accident that by 2020 we will start in Formula E, which at that point in time is more a PR and marketing platform.
"But when we enter, we want to contribute to the face that this will become more and more a sporting platform, with real, hard competition, so the answer is yes."
It's understood that McLaren is also working on developing an all-electric hypercar as an EV successor to the P1. As for Mercedes, the all-electric Project One stablemate remains firmly a project for the next decade, given that we're still yet to see the finished, production version of the firm's new Formula 1 engined flagship.
Do you like the idea of an electric hypercar from Mercedes-AMG? Let us know in the comments...