Volkswagen Passat v Toyota Avensis
Just how far have diesels come? These two family cars from Volkswagen and Toyota deliver the answer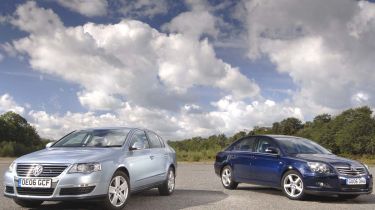 Diesel family cars aren't the most likely vehicles to get your heart ra­cing. However, the image of oil-burners is continually improving – JCB's Dieselmax recently set a new derv-powered land speed record.
Neither car here is likely to top that, but they both show perfectly how far such power­plants have come. Not long ago, the average 2.0-litre TD put out around 110bhp. Now, most develop about 140bhp. But both Volkswagen and Toyota have managed to extract even more from their four-cylinder diesels.
A new high-pressure injection system has upped the output of VW's 2.0 TDI to 168bhp, while barely affecting economy. And Toyota has put its latest 175bhp 2.2 D-4D 180 in the Avensis as part of a mid-life face­lift. So, which high-powered family saloon offers the better balance of pace and affordability?
Verdict
Stepping out of the Passat and into the Avensis, it is clear which is the winner – even though the two cars seem very well matched on paper.
With its great interior, solid image, refinement and economy, the VW has a sense of occasion the Toyota can't match. Despite the new engine and raft of changes, the Avensis remains a distinctly average family car that lacks driver involvement and doesn't ride as capably as its rival.
Both engines are impressive and suitably refined, yet is there any reason to choose either over a less powerful alternative? Not really. While they're faster in a straight line and just as economical on long trips, these diesels are more peaky and less progressive than the best 140bhp variants.