Honda Civic Type S v Vauxhall Astra Sport Hatch v Citroen C4 Coupe
Honda's new three-door Civic Type S meets sporty stars from Citroen and Vauxhall. Which delivers the most fun?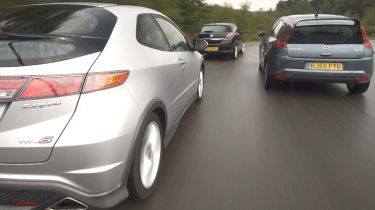 Helped by the popularity of online poker, gambling seems to be all the rage these days. But whether you are sat at your PC or living the high life in a casino, it's always a risky business. Just ask Honda.
OK, so the company's decision makers were at the drawing board rather than the roulette table when they placed their chips, but you can't deny the Japanese firm took a chance with the radical looks of the new Civic. However, unlike many a poker player, it seems the marque's gamble has paid off, because in the first eight months of 2006 Honda has sold more Civics in Europe than in the whole of 2005.
What's more, the firm is recruiting an extra 700 workers to man an additional shift at its plant in Swindon, Wiltshire. Part of the reason for the increase in production is the launch of the three-door version. This model is squarely aimed at young buyers, and so is only available in sporty Type S form. It benefits from a wider rear track, reworked dampers and sharper steering - all designed to improve the fun factor.
However, buyers of three-door hatches are also looking for an additional slice of style, so here we put the new Civic against two rivals that trade on their looks and design flair. Do the Citroen C4 Coupé and Vauxhall Astra Sport Hatch have the measure of the new Civic Type S? We have the answers...
Verdict
There's a large gulf between the winner and the two runners-up. The Civic Type S is the best car here by a country mile. The revised suspension and wider track have given the crisp chassis even more bite, while the clever rear seats and large boot are unaltered from the five-door.
But it's not only practical and good to drive. The Civic is aimed at sporting owners, and we think it hits the nail on the head – particularly when you factor in the superb diesel, impressive quality and stunning design.
There's a closer fight for second, but thanks to its excellent build quality and strong performance, the Astra edges ahead of the C4. The Citroen offers good value, but doesn't feel as well built or as good to drive.