Ford Fiesta ST v MINI Cooper v Suzuki Swift Sport
Can MINI's all-new Cooper lay down the law in its first test? We pitch the top-seller against Suzuki and Ford hot hatch rivals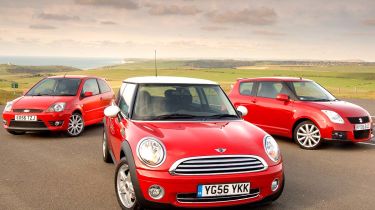 Successfully recreating the MINI and building up a brand image that's the envy of the motor industry is one of the biggest achievements in BMW's history. Demand exceeds supply, the range has expanded to include a convertible and, as a result, the British-made car is more popular than ever.
So, to ensure this success story contin­ues, the second-generation model needs to be very good. We have already tested the all-new top-of-the-range Cooper S, and been very impressed.
But the question is, can the cheaper and less powerful Cooper prove as big a hit? Bosses say it will be the best-selling model, and it's powered by the same 1.6-litre engine as the Cooper S, albeit without the added boost of a turbocharger. So, we put the newcomer to the test against two of the best rivals around.
First up is the new Suzuki Swift Sport, which has superb build quality, sharp handling and delivers a similar output to the MINI from its 1.6-litre engine.
But with its 2.0-litre motor providing an impressive 148bhp, it's the Fiesta ST that has the most power of our test trio – although this comes at a price, as the Ford is also the costliest contender.
So, which of these 'warm' hatches has the most all-round appeal? We provide the answers as they go head-to-head...
Verdict
It's win number two for the new MINI. The Cooper S has already proved itself to be the ultimate hot hatch (issue 935), and the Cooper sees off some talented opposition here. Both the Suzuki Swift Sport and Ford Fiesta ST are old-school hot hatches that are great to drive. The Fiesta is faster and has better steering and handling, but thanks to its more modern interior, value price and generous kit, the Swift sneaks ahead to take second spot.
Yet the MINI moves the game on. Cleverly updated and beautifully detailed, the Cooper retains its unique charm, and adds a more compliant ride and better refinement. While it's short on standard kit, low running costs are guaranteed and, most importantly of all, it's still a hoot to drive.