Fiat Bravo v rivals
Can the new Fiat Bravo beat key rivals from SEAT, Kia and Citroen?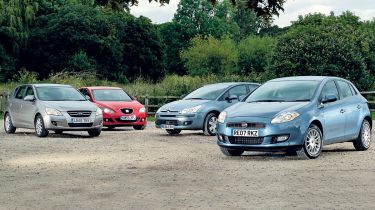 Don't say this too loudly, but it seems Fiat is rediscovering its flair. The Italian firm has been making promising noises – and backing them up with quality products.
The Panda city car is excellent, and the sporty Grande Punto is one of our top superminis. Yet to come is the most exciting small model of the year: the retro 500, which we drove and raved about in Issue 968. But before that, Fiat is launching its new Bravo.
Available only as a five-door, the family hatch replaces the Stilo, and has been developed to meet the benchmark set by the likes of the VW Golf. Amazingly, it was created in only 18 months, thanks to computer-aided design and engineering. Fiat claims this 'virtual' influence has resulted in a car that has superior dynamics, class-leading accommodation and solid build quality.
That's a confident boast, but the company isn't getting cocky – it knows it's still some way off competing with the sales of Ford and VW. Instead, it sees the three cars we have gathered here as more likely rivals: the SEAT Leon, Citroen C4 and Kia Cee'd. The Kia is a great all-rounder, the Citroen majors on comfort and the stylish SEAT has strong reliability thanks to its VW Group influence. All three models offer good value for money – but will buyers be shouting bravo for the new Fiat?
Verdict
The family hatch market is highly competitive, and buyers aren't short of choices. So does the Bravo make a mark? Well, it's certainly the best offering from Fiat for a long time. And although it doesn't sparkle enough to tackle class leaders such as the Ford Focus and VW Golf, it takes victory in this test.
Its Italian style, smart interior and assured handling seal the win – but the Bravo isn't faultless. Its boot is cramped, rear space could be better and the steering is short on feel. This car is competent, with room for improvement.
The Fiat was pushed all the way by the Cee'd, which is an assured if rather bland offering. Still, it's fantastic value and is well kitted out, too, plus there's Kia's seven-year warranty. It's easily ahead of the Leon, which is let down by its coarse TDI diesel and harsh ride. Back in fourth place is the C4; it's refined, but interior quality and space are not up to class standards.