Mercedes C-Class vs Lexus IS250
With sharper styling, Mercedes' new C-Class is aiming to attract a host of younger buyers. We see how the petrol version fares against Lexus' IS250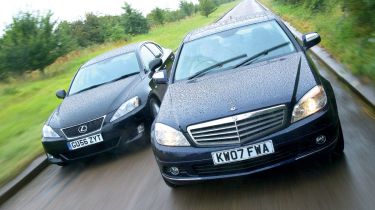 It comes as no surprise that the new Mercedes C-Class is making waves in the compact executive class. The latest model's sharp lines and athletic look should certainly help attract more youthful buyers from its biggest rivals, BMW and Audi.
We've already driven and tested a four-cylinder diesel model and were mightily impressed. Now we aim to find out whether the petrol equivalent is as good and can match the very high standards set by the oil-burner.
The C200K is powered by an improved version of the 1.8-litre supercharged engine from the previous model. This unit is also used in the entry-level C180K, but power is increased from 154bhp to 181bhp.
With prices starting at £24,117 for the SE model, it's one of the least expensive routes to C-Class ownership. We're testing the comfort-biased Elegance spec, which adds £1,195 to the base model's price.
Standing in its way is another car that majors on refinement – the Lexus IS250. As well as a more powerful V6 engine, this range-topping SE-L model also has a higher price tag than the Mercedes, at £29,627.
Both are well equipped and packed with the latest technology, both in the cabin and under the skin. So, which one should you opt for if you want to create a stir in the company car park? Read on to find out...
Verdict
While both of these saloons make most sense as diesels, the petrol versions still have plenty to offer. The IS's V6 has more character than the C-Class's four-cylinder engine, but isn't any pacier, unless pushed hard. The IS250 costs more in SE-L trim, too, and it doesn't ride as well, either.
Yet these aren't the only reasons why the Mercedes takes victory. The new C-Class is simply more talented. Yes, the cabin is plain and finished in brittle plastics, but it has extra room, plus the driving position is better and the boot bigger. What's more, the C200K offers a smooth ride, sharp steering and excellent composure in corners – the Lexus is uninvolving in comparison.
But that's not to say the C-Class is perfect; it lacks a little sparkle, and the engine isn't best suited to an auto. Additionally, this model costs the same as the more frugal – and tempting – C200 CDI diesel. Nevertheless, the C200K is cheaper than the IS250 SE-L and comes generously equipped. The IS has always been renowned for comfort, and that's still the case: for refinement, the Lexus is unsurpassed. But against the C-Class, that's not enough.