Mercedes CLS vs BMW 6-Series Coupe
BMW has finally added a diesel to the 6-Series range. We compare it to the oil-burning CLS to see which makes the better grand tourer.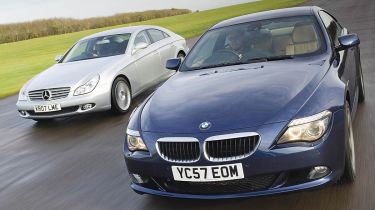 In theory, fitting a luxury coupé with a diesel makes sense – so why has it taken upmarket brands so long to cotton on to this? After all, modern oil-burners offer excellent refinement, strong performance and good economy – ideal for cars designed to cover long distances.
More affordable coupés have had success breaking into this market, not least the Peugeot 407 Coupé and Alfa Romeo Brera, but for some reason BMW has resisted producing an oil-burning super-cruiser, despite having one of the best diesels in the business.
But now, four years after the 6-Series was introduced, it's been fitted with the popular twin-turbo 3.0-litre straight-six. With 0-60mph in around six seconds, it has genuine performance credentials, plus there's a claimed combined economy figure of over 40mpg.
However there's more to a grand tourer than a great engine. Comfort and refinement are two key aspects, and that's why we're putting the BMW up against the Mercedes CLS 320 CDI. We're big fans of the Merc, as it's distinctively styled, comfortable and superbly engineered.
So which of these two superdiesels makes the better buy? Read on as we reveal all...
Verdict
The last time we put these two cars head-to-head was in petrol form – and it was the Mercedes that came out on top then. So, do the diesel engines have a bearing on the outcome this time? Well, it's hard not to be impressed by the 635d – it's certainly the best engine in the model line-up, delivering an addictive blend of power and economy.
That's not to say the V6 unit in the Merc isn't just as impressive. It's not as potent, but it's superbly refined. The four-door set-up means that the CLS is also more practical and has the bigger boot, while the ride quality is nothing short of astonishing.
However, although grand tourers are all about luxury and comfort, there also needs to be an element of driver appeal – and that's where the 635d wins back some ground. The ride is firm, yet the car offers endless grip and an agility that is missing in its rival.
Ultimately, it boils down to what you want from your coupé – performance, economy and involving handling, or outstanding comfort. Both are excellent choices – but the Merc's big price advantage gives it the nod.