V8 Vantage vs GranTurismo vs XKR
We head to France to see if the all-new Aston Martin V8 Vantage N400 and Maserati GranTurismo can beat Jaguar's XKR to be crowned the ultimate grand tourer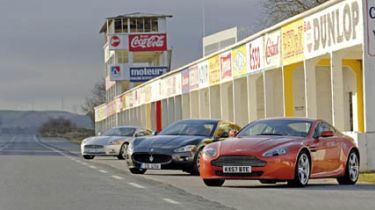 Grand tourers bring back memories of a time when gentlemen drove in flat caps, silk scarves and string-backed gloves. And their cars had running boards and luggage tied to the back.
Yet the focus of these machines hasn't moved on much over the years. A grand tourer is still a comfortable, stylish sports coupé designed to cross continents with pace and grace. So, what could be better than a European jaunt to find out if the Aston Martin Vantage N400 or Maserati GranTurismo can steal the Jaguar XKR's class crown?
We headed to the Reims-Gueux Grand Prix circuit in France – a venue with which all three manufacturers are closely connected. Astons competed here in the pre-war period, the great Juan Manuel Fangio drove his last-ever race at Reims in a Maserati 250F and Jaguar D-Types took a one-two in the 1954 12-hour endurance race. A plaque commemorates the big cat's achievement, which saw the Jags gain revenge over the Ferraris that had beaten them at Le Mans a month earlier.
Each of our test cars has a front-mounted V8, and sends around 400bhp to the rear wheels through an automatic gearbox. But there are big differences, too. The Aston is a strict two-seater, while nearly £27,000 separates the N400 from the XKR. These cars have been designed for high-speed cruising, but we gave them a work-out on B-roads and in town, too, to find Britain's best grand tourer.
Thanks to: www.amis-du-circuit-de-gueux.fr
Verdict
The grand tourer is in fine form. All three luxurious coupés excelled on their trip down memory lane to the Reims GP circuit. They coped admirably with high speed cruising, have potent, charismatic engines and are extremely capable and enjoyable to drive – as well as being hugely desirable.
However, one has to finish last. And although we had high hopes for the Maserati GranTurismo, it stands on the bottom step of the podium. It's far better than the old Coupé in terms of comfort, design and quality, and has so much charisma. Yet that's not enough to make up for some niggling faults.
The Aston and Jag aren't perfect, either, but both feel better engineered. We came close to handing the former the win – the modifications make the N400 more balanced than the standard Vantage. Yet the XKR's price, together with its cosseting cockpit and unbeatable cruising ability, gave it the edge.