New Forester vs Captiva
Does an SUV really need four-wheel drive? We find out as the new 4WD Subaru Forester takes on the front-driven Chevrolet Captiva.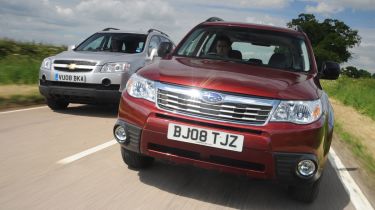 AS a company that trades on being different, Subaru is one of Japan's quirkiest car makers. Whether it's the insistence that boxer engines are superior to conventional units, or being the very last to arrive to the diesel party, Subaru does things its own way.
And that's always been part of the firm's charm, so why haven't designers dared to be different with the new Forester? Traditionally, the farmer's favourite was a beefed-up estate with compromised practicality but great durability and off-road ability, following a similar path to Audi's Allroad. But the latest version tested here has swapped its unconventional shape for a more traditional off-roader profile. While that flies in the face of Subaru's usual approach, it opens the Forester up to a wider audience – and should give SUV rivals some stiff competition.
Another marque expanding its off-roader's reach is Chevrolet. The Captiva is good value in seven-seat form, and now the firm has launched a new base diesel model with front-wheel drive, room for only five and a virtually identical price tag to the entry-level Forester. The Subaru also seats five, but has the benefit of the firm's legendary 4x4 know-how, ensuring the 2.0-litre petrol model is a grown up off-roader with a junior price tag.
But will it be able to match the showroom appeal of the Chevrolet? The stage is set to see which low-cost SUV comes out on top.
Verdict
BOTH these models have flaws we find hard to overlook. While the Forester is well built, it's bland and crippled by its petrol engine.
When the diesel car arrives in September, it will be a more complete package. But it's likely to be priced in Nissan X-Trail territory, where it will struggle to compete. So while the Forester has a far superior chassis to its Chevrolet rival, that's not enough to secure victory here.
The Captiva gets the SUV packaging spot-on, with decent looks and an attractive and practical interior. Its engine is also strong – so only the lacklustre dynamics and the two-wheel-drive transmission let it down.
Adding to the feeling that the Chevy isn't a proper SUV is the absence of an electronic stability program. But the Captiva does just enough to meet the demands of the vast majority of buyers – and wins this test.