M3 shoot-out
M's the word for performance fans. But which BMW M3 is our favourite: the coupé, saloon or new convertible?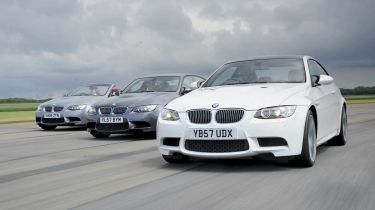 It's a small badge that's a big deal to enthusiasts. BMW's M division is legendary for its high-performance line-up, and its creations have helped underpin the manufacturer's claim of building the ultimate driving machines.
The M3 is the most famous model of all, and after 22 years of production it has become a benchmark in this class across the world. It all started when BMW was looking to go into motorsport in the Eighties. It needed to build 5,000 roadgoing models for the M3 to qualify for the competitive Group A category in saloon car racing.
The original was only available in left-hand drive and featured a 2.3-litre four-cylinder engine producing 192bhp. These days, that's barely enough for a hot hatch, let alone a high-performance saloon. Subsequent models have introduced right-hand drive, as well as four-door and convertible bodystyles – and they're much more potent, too. The latest model is the fastest and most powerful yet, and it's the first mainstream M3 to use a V8 engine.
That's big news for performance fans, as we Brits love the flagship 3-Series. Only the Germans and Americans buy more M3s than we do. So, which is best? We put the Coupé, saloon and latest Convertible to the test...
Don't miss our exclusive video round-up of the test here.
Verdict
At the start of this test, we set out to establish which M3 is the best. And one thing is clear: whichever one you choose, the BMW is a stunning piece of machinery.
Not only is it technically superb and expertly engineered, it also has an awesome V8 engine. With electronic damper control and its optional double-clutch box, there's no shortage of innovation, either.
Key to the M3's appeal are its agile handling, brutal power, tight body control and incredible brakes. Its sky-high dynamic limits are the only letdown – the speeds at which the BMW becomes truly engaging aren't practical on the public road.
Still, few performance cars offer the drama served up by the latest M3 line-up. So, which one wins?
Well, it's not the Convertible, even though this is the best drop-top model yet. Although its extra weight and less agile handling demand compromises, it is closer to its fixed-head cousins than ever before. The neat folding roof means you sacrifice little in the way of comfort, too, but the extra cost and bulk of the system leaves the cabrio trailing here.
From behind the wheel, the M3 saloon and Coupé are virtually identical – but for us, the two-door still has the upper hand. Although it's costlier to buy, it has stronger residuals, more aggressive looks and the most desirable image – all of which makes it our choice.