Used test: Vauxhall Meriva Enjoy vs Mazda 2
Lower fuel bills and cheaper tax make supermini-MPVs sought-after buys!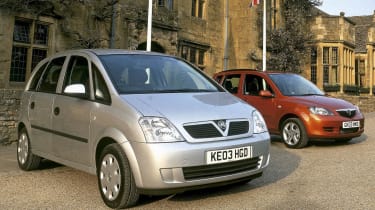 When does a small car stop being small? The supermini-MPV sector has been growing for some time, and as more of them appear on used forecourts, these clever little motors are becoming clever little buys.
Both the Vauxhall Meriva and Mazda 2 offer masses of space, despite their dimensions. A Meriva 1.6 16v Enjoy can be had for as little as £4,000, with later versions rising to around £8,750 for a Life variant (Enjoy became Life at the 2006 facelift).
A Mazda 2 TS2 (renamed Capella in 2004), meanwhile, will set you back less than £4,000 for an early model, with more recent examples going for around £6,500.
The Meriva is the bigger of the two cars, but isn't that much roomier inside. Standard equipment isn't great, either, with alloy wheels and electric rear windows both options. To make things worse, the extra weight caused by its larger dimensions means the 1.6-litre unit has to work harder than the 1.4 in the lighter Mazda, so fuel economy suffers accordingly. However, handling is sure-footed – if a little soft – and the ride composed and smooth.
The clever FlexSpace interior design in the Vauxhall is extremely versatile, and the trim and fittings are durable, which makes the Meriva a really user-friendly family car.
Mechanical faults have developed for many owners, though. The main concerns have been faulty steering racks and gearboxes, plus juddering clutches in cold weather.
Despite its smaller engine, the 2 is a brilliantly nippy little car, but the 1.4-litre unit does feel short of breath at high revs. Excellent chassis balance and ride quality make it seem willing and agile, with composure to complement its smooth engine. The Mazda's boot can't match most rivals for room and the seats are far less versatile than the Meriva's. Yet a wide tailgate and low sill help maximise what space there is available.
The interior doesn't feel as robust as the Vauxhall's, either, although build quality isn't a problem. Reliability is the Mazda's trump card; the only problems that have come up with the 2 are occasionally faulty electric windows and diesel coil packs that need replacing.
With this sector feeling less of the pinch in terms of rising tax and fuel costs, these spacious hatches are proving a great solution for small families who are looking to beat the financial squeeze.
What's more, there are plenty of examples of each car on the used market, so it's never been easier to find a practical and spacious supermini-MPV.