Compact exec group test
BMW has facelifted the 3-Series in a bid to reclaim its compact executive crown. So, how does it shape up against Audi, Jaguar and Mercedes rivals?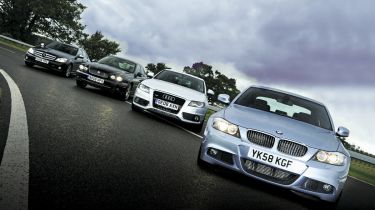 It's the premium car with mass appeal. BMW's 3-Series wears an upmarket badge, but its popularity and sales success mean it has featured in the UK top 10 best-sellers list for the past three years. Described by bosses as "the heartbeat of the brand", it accounts for a huge 45 per cent of BMW's British sales.
So to keep the classy favourite at the top of its game, the saloon and Touring estate have had a mid-life update. The styling has been refreshed, interiors spruced up and engines tweaked, while as before there's a choice of ES, SE and M Sport models. Nearly half the cars sold in the UK come in the latter trim, so we picked the revamped 330d M Sport for the model's first UK test.
The six-cylinder 3.0-litre diesel has been revised to give more power and torque, while emissions and economy are also improved. But the competition is tough. Audi's new A4 is better to drive than ever, and in racy S line trim the 3.0-litre TDI quattro is a real sports saloon to challenge the best BMW has to offer.
Don't forget Mercedes, either: the C-Class has unique styling in Sport guise, and here our long-term C320 CDI faces up to the reworked BMW. Jaguar's X-Type has recently benefited from a facelift, too, so this test gives us a chance to find out if it can still compete with the German class leaders.
Verdict
Combining excellent driver appeal and immense performance, the 330d M Sport is a fantastic sports saloon – and a superb compact executive model, too.
Its styling updates are subtle, but they have done just enough to make the 3-Series irresistible. And despite its low emissions, the BMW engine has more power than its rivals. What's more, the firm has addressed the cabin's only real flaw, by reworking the iDrive system. The 330d wins – albeit only by the tiniest of margins.
It narrowly relegates the Audi to second place. The 3.0-litre TDI is fast and refined, and with the benefit of four-wheel drive the handling is sharp and secure.
With decent performance and sporty styling the C320 is a strong contender, too. Yet the CDI engine can't match the BMW's torque or the Audi's refinement. The C-Class has a slightly uninspiring cabin as well, so despite boasting the best residuals it finishes third here. The Jaguar is the only car to be comprehensively outclassed in every area. Even the low price can't hide the fact that the X-Type is now too old to compete in the toughest of new car sectors.