Auris VS Cee'd
Has Kia progressed to the extent where it can take on and beat global giant Toyota? We test the Pro_cee'd and Auris TR hatches to find out...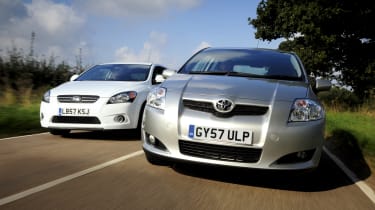 What's in a name? Time and again, Kia's latest models have proven themselves to be worth taking seriously, so now we want to find out if the firm is ready to teach one of the giants of family car making a thing or two.
Toyota's Auris has struggled to find favour since its launch last year. There's nothing wrong with the hatchback, but it's simply failed to catch our imagination. With the introduction of the warm TR version, the hatchback range is now complete. And here we've put the latest model up against Kia's own sporty machine, the Pro_cee'd.
When the Auris' predecessor, the Corolla, ruled the global compact family hatch market, Korean rivals posed no threat to the Japanese giant. How things change.
The Pro_cee'd in this test is a member of Auto Express's long-term fleet, and its successful six-month stay with us has shown that Kia's talents run deep. The £15,770 three-door has unique styling to set it apart from the five-door variant, while its 138bhp 2.0-litre diesel delivers punchy performance. Choose the Auris, and you don't need to compromise on practicality to get sporty appeal, as the TR model is offered in both three and five-door forms. We've gone for the latter bodystyle to see if the added versatility can give it an advantage against the Korean upstart.
The 2.0-litre diesel-powered Auris TR costs £15,795, which places it within a whisker of the Kia's price. So, which model will triumph... the catwalk-ready Kia or the thoroughly practical Toyota?
Verdict
This turned out to be a close contest between two contrasting models. Yes, they both cost the same and aim to tempt buyers with value and a touch of extra style, yet our two contenders end up offering very different packages.
Treated as a hot hatch or even a warm model, the Pro_cee'd doesn't have the dynamic abilities we'd hoped for. The Auris on the other hand is well built and sensible, but lacks drama.
In the end, desirability won the day. The Kia's stylish looks, gutsy performance and generous standard kit are too much for the Auris. The Japanese car is practical and comfortable, but rivals offer so much more. Toyota needs to stop producing models that merely meet expectations and concentrate on exceeding them. If its cars don't gain a bit of personality, it could find itself struggling to hold the attention of ever-more discerning buyers.