Insignia Sports Tourer vs Mondeo
Looking good is as crucial as carrying luggage for estates. So, can Vauxhall's new Insignia Sports Tourer beat its Ford Mondeo rival?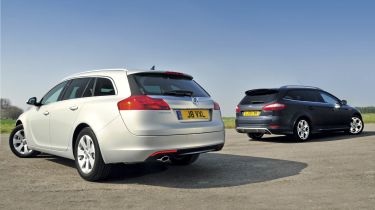 Size isn't everything... unless you're choosing a new estate car. We've put Ford and Vauxhall head-to-head again now the estate version of the Insignia has arrived in the UK. But is the biggest still the best?
Swooping rooflines and entertaining handling are now every bit as important as outright storage capacity, as luggage carriers become more fashionable once again.
A variety of glamorous badges reflects this new-found appeal, and joining the Touring and Sportwagon gang is the new Vauxhall Insignia Sports Tourer. We've already been impressed by the hatchback, but the new hauler has big boots to fill – the Vectra it replaces was a traditional estate with a class-leading load area.
Although competition is fierce in this fashionable sector, you don't have to look too hard to find the Vauxhall's closest rival. The Ford Mondeo leads the family car pack, and the load carrying version is one of the most practical models on the planet, with a huge boot and an excellent engine line-up. It doesn't have a glitzy name – Ford simply calls it an Estate – but in 2.2-litre TDCi diesel guise it combines strong performance with stylish looks and a capable chassis.
Vauxhall's flagship diesel features a smaller 2.0 CDTI – so does the Insignia have enough capacity to win the space race?
Ranking
1st: Vauxhall insignia The new Insignia is a convincing family estate. Its higher roofline remedies the tight rear headroom in the hatchback, and SE Nav trim is competitively priced and well equipped. Refinement and ride comfort are first rate, too.
2nd: Ford Mondeo Still the best car to drive in this class, and the Ford estate is bigger and more attractive than its rival. What lets it down is the price and weaker residual values. Add higher emissions, and the Mondeo misses out on top spot in this test.
Verdict
Modern estates have a tough brief. Not only do they need to provide lots of space, they also have to look good and entertain from behind the wheel. Both these cars cover all the bases, with a blend of style, pace and practicality that makes them great all-rounders.
Splitting them is no easy matter. The Ford is gigantic on the outside, yet it shrinks behind the wheel and feels like a much smaller car to drive. Its 2.2-litre diesel is also more powerful than the Insignia's flagship oil-burner.
We think Sports Tourer is an unusual name for a model that puts comfort and refinement first. However, the new Vauxhall is still good to drive, plus has more kit and a classier cabin.
In the end, the Ford's finances simply don't add up, and the Insignia squeezes home ahead of the Mondeo thanks to its lower emissions, generous spec and stronger resale values.