SEAT Exeo vs Lexus IS
SEAT hopes its Exeo will gain a foothold in the family saloon class. Can it beat another alternative choice in the shape of the Lexus IS?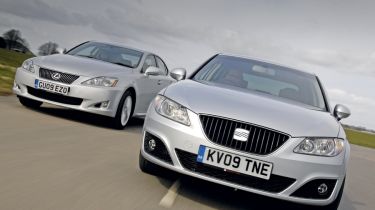 The new SEAT Exeo is arguably not new – nor even a SEAT! That's because the saloon is effectively a reworked version of the previous-generation Audi A4 with a different front end.
The Spanish manufacturer sees this as the quickest way for it to enter the large family car market, and it provides loyal customers with somewhere to go when they've outgrown their Leon hatchbacks.
Despite being underpinned by Audi engineering, the Exeo comes with a more affordable SEAT price tag. And rather than being a simple rehash of an old model, it's equipped with the VW Group's latest 2.0-litre common-rail diesel engine.
Due to its generous standard kit, power and economy, the competitively priced Exeo is theoretically a bargain alternative to a compact executive model from one of the prestige brands.
To find out if it really can cut it in this rarefied atmosphere, we've pitched it against another oil-burning saloon that takes the fight to the established class favourites: the Lexus IS 220d.
The Japanese car has a more prestigious badge, a stronger engine and higher price. Which model offers the better blend of quality, driver appeal and value?
Verdict
The new Exeo is a difficult car to judge. There's no hiding its last-generation Audi A4 heritage and the styling is a bit old-fashioned. Yet the addition of SEAT detailing freshens things up.
It's a similar story inside. The cabin is dated but has Audi quality. and while it's not as practical as rivals such as the Ford Mondeo, it's roomier than the Lexus. Crucially, with the latest common-rail TDI unit, the Exeo delivers good performance and refinement. Combining that with composed handling and generous equipment makes it a strong contender.
The IS 220d is a more upmarket proposition. Faster and sharper-looking, it has more power and is backed by Lexus's excellent customer care. But the cramped cabin, clumsy manual gearbox, small boot and coarse engine let it down. So, with more driver appeal and a much cheaper price, the SEAT takes victory here.
1st: SEAT Exeo The Exeo takes the SEAT brand into a new sector, and its Audi roots are the motoring equivalent of a leg-up. Add the VW Group's latest oil-burner, and it's an appealing saloon. Far from groundbreaking, but great value.
2nd: Lexus IS It's well built and attractively styled, but the IS 220d is held back by its poor manual gearbox, gruff diesel engine and cramped cabin. Lexus's great P back-up and exclusive image aren't enough to justify the additional cost.