Audi S4 Avant vs VW Passat R36 estate
Sizzling estates go head-to-head as the storming new Audi S4 Avant meets its Volkswagen Passat R36 rival!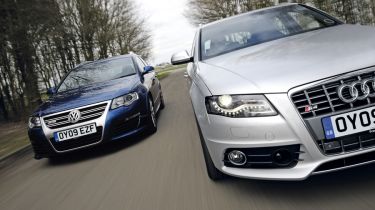 It's been a long time coming, but Audi's famous S4 badge is back. The new A4 was unveiled more than a year ago, and now the German firm has unleashed the high-performance flagship of the range. So, how will it fare?
Well, firstly, fans of the fast Audi will be in for a shock when they take a look under the bonnet – as the old car's muscular 4.2-litre V8 powerplant has been replaced by a smaller supercharged 3.0-litre V6. It promises to make the S4 cleaner and more efficient than before, while retaining the scorching straight- line pace of its predecessor.
Factor in Audi's superb quattro four-wheel drive and stylish but understated good looks, and you have a seriously desirable machine. However, the switch to six-cylinder power brings the new model into the firing line of a close relation.
The Volkswagen Passat R36 offers a punchy 3.6-litre engine, a four-wheel-drive chassis and family-sized body.
In fact, it could have been used as a template for the S4, but for one crucial difference. At £32,990, the VW undercuts the Audi by £3,835 – and that's a healthy saving.
Both cars are available as smart saloons, but we've brought the two together in practical estate guise. Which of our rapid German load carriers will win the fight for family honours?
Verdict
Practicality is as important as performance for buyers of fast family cars, and this duo are equally at home on the school run as they are on twisty back roads. But only one can win.
The Passat is hard to ignore because it is cheaper than its rival and has more cabin space. Not only is the estate version versatile, it's also genuinely entertaining to drive.
However, that isn't enough to match the all-round appeal of the S4. The latest hot Audi delivers blistering acceleration and its hi-tech chassis gives the car impressive agility in the corners. There's no denying it's expensive, but the S4's stronger residuals help to offset the extra outlay, while cabin quality is excellent.
Fans of the brand worried about the new S4's smaller engine and subtler looks can rest easy – the latest model has lost none of its predecessor's character or pace.