New Renault Clio Vs Rivals
Renault's all-new Clio takes on two of the class's best in a fight for small diesel honours. So, can it knock out the Ford Fiesta and Peugeot 207?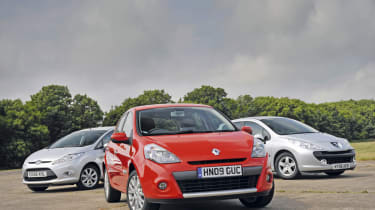 Diesel superminis offer the best of all worlds. 
They provide strong fuel economy, low CO2 emissions and punchy performance in pretty and practical hatchback bodies. And although competition is always fierce in this sector, it has intensified with the arrival of the new-look
Renault Clio
. 
We've already been impressed by the hot Renaultsport 200 Cup version, but how does the 1.5-litre diesel rate against its mainstream rivals? To find out, we've lined up a pair of talented challengers. First up is the
Ford Fiesta
. The five-door supermini has yet to be beaten in an Auto Express road test, so the 1.4-litre TDCi version has a big reputation to live up to. But with less power and a higher list price than the Renault, it has a tough job on its hands.
The second car aiming to take a shot at the Clio is from a rival French car maker. Peugeot introduced the idea of diesel superminis to the motoring masses with the legendary 205 – and its modern-day counterpart shares its 1.4-litre engine with the Ford Fiesta.Let the eco-busting supermini test of the year commence...
Verdict
Competition in the supermini sector is incredibly fierce – and this trio proves buyers looking for a small diesel model are spoiled for choice. But which one should be at the top of the list?
The Peugeot is the first car to fall. In this company, the 207 is beginning to look and feel dated. Its engine is effectively the same as the Ford's, but in the French car the unit is short on refinement and pace. While there's a revised version on the way, for now the 207 is outclassed by its rivals here.
Separating the Clio and Fiesta is a much tougher task. Visually, the Renault's facelift hasn't been entirely successful, but under its bold new look is a fine all-rounder. The smooth and punchy 1.5-litre dCi powerplant is the best here, while the cabin still matches the class leaders for space and quality.
The Clio also has price on its side – but in the final reckoning we think the Fiesta is just about worth the extra outlay. It looks and feels like a premium product, while its sharp chassis makes it fun to drive, too. And refinement is a match for cars from the class above. By the closest of margins, the Fiesta wins – yet the latest Clio remains a fine alternative.