Facelifted Cee'd vs Chevy Cruze
Kia has planted its revised Cee'd on the market with a new look and fresh cabin. How does it rate against the top-value Chevrolet Cruze?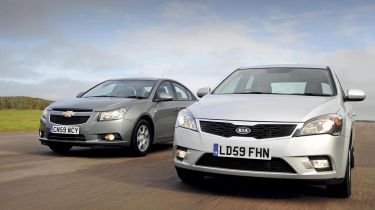 It's the car that sowed the Cee'd of change at Kia! Built, styled and developed in Europe, the Cee'd altered the way UK customers thought about the Korean brand. And helped by an industry-leading seven-year warranty, it's been a big hit.
The company isn't getting complacent, though, as it has just treated the range to a comprehensive update. Fresh looks and an upgraded interior are the most obvious changes, but under the skin, revised suspension aims to hone the dynamics. Plus, there's a new, more simple model structure.
The biggest news is that Kia debuts its new EcoDynamics green brand on the hatch. This will spread across the whole range, but for now the 89bhp 1.6-litre CRDi diesel Cee'd is the only choice. Featuring stop-start, it emits only 110g/km of CO2 and claims 67.3mpg economy.
But Chevrolet's great-value new Cruze is hard to ignore. What the saloon-only model lacks in versatility it makes up for with sharp looks, generous kit and an excellent Vauxhall Astra-based chassis. We test the VCDi diesel for the first time.
Verdict
these two cars provide all the evidence you need that value brands are on the march, and that mainstream rivals should be worried.
Bearing in mind it costs little more than a supermini, the Chevrolet Cruze represents excellent value. It's a large and smartly styled family car that comes packed with equipment.
Decent handling and refinement add to the appeal, but while the VCDi diesel engine is arguably the pick of the range, it isn't clean or efficient enough in this company. The saloon body also means the Cruze can't match its hatchback rival for ultimate versatility.
The revised Kia wins this test thanks to its low emissions, strong economy and superior refinement. The Cee'd has an improved cabin and sharper handling – and when you add this to the industry-leading seven-year warranty, it's a very sensible family car package.