90 years of Citoren
In a 90th birthday exclusive, we compare four Citroen classics – plus look at its new 2010 star.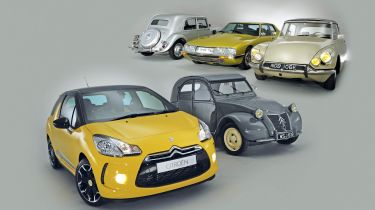 Citroen is 90 not out, and to celebrate the maker's achievement, we have assembled four great cars from its past, plus one from its future.
More than any other manufacturer, the French giant is known for thinking outside the box. Its history is littered with innovative designs. Not all of them have been sales hits, and some even threatened Citroen's future, but the brand's refusal to follow the crowd has resulted in some of the most recognisable machines in the world.
From the innovative Traction Avant of the Thirties to the legendary 2CV, it has always approached car design from a different angle. The complex SM coupé and stunning DS are famous around the globe, which explains why Citroen is relaunching the DS badge with its hotly anticipated new MINI rival, the DS3. We look back at some of this car's illustrious forebears to see if it can live up to the legend.
The cars...Citroen DS3 Stylish MINI rival promises to shake up small car class
Citroen 2CV Tin snail brought post-war mass-market revolution
Citroen DS Name is synonymous with innovation and stylish looks
Citroen SM V6-engined stunner took firm into supercoupé market
Citroen Traction Avant Front-wheel-drive pioneer invented modern family car