VW Scirocco R vs. rivals
Volkswagen's new Scirocco R meets three red-hot rivals in a sizzling shoot-out. Can it blast its way to the front of the pack?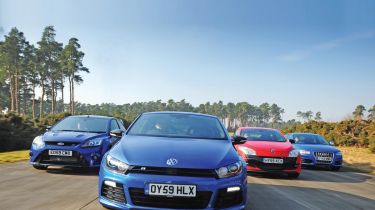 The Volkswagen Scirocco takes its name from a warm wind that blows from the Sahara to the Mediterranean – so it's appropriate that it has just got even hotter!
The new range-topping R model features a 2.0-litre TSI engine which develops 261bhp. This is transferred to the road via its front wheels. That isn't unusual in this class of the market, though – the Renaultsport Mégane 250 Cup lining up alongside it here has already impressed us with its superb front-drive chassis.
As with the Scirocco, the svelte coupé-inspired French hatchback looks fantastic. And while it can't match the VW in the power stakes, it does come with a very attractive price tag of less than £22,500.
One car that isn't lacking in performance is the 301bhp Focus RS. Its five-cylinder turbo engine provides incredible pace – but is it a good enough all-round package to beat the new Scirocco and talented Mégane?
On the subject of great all-rounders, the Audi S3 mates the same engine as the Scirocco R to the company's famed quattro drivetrain. It comes wrapped in an attractive body and wears a desirable prestige badge.
But which of our four models strikes the best balance between raw performance thrills and everyday user-friendliness?
The Result 1. Megane 250 2. Scirocco R 3. Audi S3 4. Focus RS
Verdict
Scintilating performance is a basic requirement in the hot hatch sector, and all these cars produce the kind of power that would have been seen as fantasy only a decade ago. Pure pace is not enough to win here, though – because brilliant handling is just as important. That's good news for the Mégane 250 Cup, as its chassis entertains on every type of road. It feels agile, alive and involving, and costs significantly less than its peers. The Scirocco R is an accomplished machine that is both desirable and fast – but it simply isn't as engaging as the razor-sharp Renaultsport, and that costs it victory here.The Focus RS and Audi S3 are polar opposites, which makes choosing between them a tricky task. While the Ford is raucous, with in-your-face looks and edgy front-drive handling, the S3's understated styling, traction and composed dynamics provide a totally different experience. In the end, the Audi's desirable image and more upmarket feel give it the edge over the RS, which leaves the go-faster Ford licking its wounds in last place.