MINI JCW GP vs Renault Megane R.S.
More power and a higher price tag places the MINI JCW GP into the firing line of the Renault Megane R.S. Trophy
We love hot hatchbacks in the UK, so the more hardcore they come, often the more the buying public laps them up. They're generally very well suited to our roads – the modern recipe usually takes a compact front-wheel-drive platform with a turbocharged engine packing lots of power, controlled by a chassis that doesn't weigh much and is fitted with clever suspension.
That's partly the case with the new MINI GP. Just look at it – it's impossible to ignore its mini touring car vibe with the massive wheelarch extensions and huge spoiler. But while the MINI ticks many boxes, it uses an automatic gearbox. There's no manual option available, so could this be a factor that precludes the JCW GP from greatness, given it costs £35,345?
The Renault Mégane R.S. 300 Trophy overlaps with the MINI in many areas, not least price and focus. It, too, is firm, claims to major on driver thrills and involvement, and is priced within a whisker of the MINI. 
However, there are a few key differences that could decide the outcome of this test, especially given a hot hatch has to cover many bases. So let's find out how these two contenders fare in a face-off.
MINI JCW GP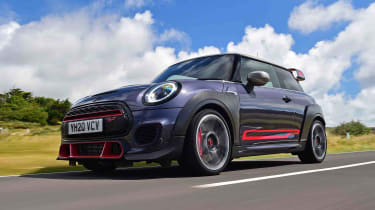 | | |
| --- | --- |
| Model: | MINI JCW GP |
| Price: | £35,345 |
| Engine: | 2.0-litre 4cyl turbo, 302bhp  |
| 0-62mph: | 5.2 seconds |
| Test economy: | 29.3mpg/6.4mpl  |
| CO2: | 189g/km |
| Annual road tax:  | £150 |
His third-generation MINI GP has a lot to live up to given the first two models were brilliant driver's cars. The £35,345 GP faces a challenge from one of the best hot hatches around: the Mégane R.S. Trophy.
Design & engineering
Like its forebears, this MINI GP is a hardcore little car, and as time has gone on it's clear to see how the process of turning a hot hatch into a very special limited-run breed like the GPs has changed. While the standard John Cooper Works hatchback's 2.0-litre turbocharged four-cylinder engine has been beefed up to 302bhp and 450Nm of torque – out-gunning the Renault – it's linked to an eight-speed automatic box.
But the other modifications are more mouth-watering. You'll notice the GP's exoskeleton aero components, including funky wheelarches, a big front bumper and a large rear spoiler. These aim to improve downforce without adding much drag because the GP can hit 164mph flat out.
Those wheelarch extensions are made of carbon fibre-reinforced plastic (CFRP) and cover a widened track width at the front and the rear, and along with other lightweight components, help keep the GP's kerbweight down to a respectable 1,255kg.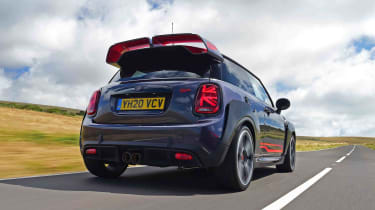 That eight-speed box is linked to a mechanically locking limited-slip differential at the front. The suspension is 10mm lower than a regular JCW's and feels much firmer, helped by stiffening to the GP's body and more rigid mountings for the front strut-type suspension and the multi-link rear axle, along with the engine and transmission. There are also upgraded brakes and a sports exhaust.
Yet in some ways you pay more for less, because the GP is only a two-seater. A huge rear strut (again  helping body stiffness) sits where the rear seats would be.
Driving
The GP feels extremely firm. There may be trick suspension but the chassis feels unyielding to the UK's bucking roads, while the Renault on its clever dampers is much more in tune with different road surfaces. There's no denying the GP is effective and serves up a tenacious level of grip, but it doesn't feel very finessed in the way it goes about its business. Instead, the GP bullies speed out of its engine, chassis and tyres. As a result, it's not the most enthralling or engaging machine to drive.
Partnership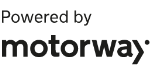 Need to sell your car?
Find your best offer from over 5,000+ dealers. It's that easy.
The 2.0-litre turbo engine is really punchy, because with more capacity and very little lag hauling less weight, it feels brawnier than the R.S.'s motor; 0-62mph takes 5.2 seconds, so it's 0.5 seconds quicker than the Renault.
However, the engine doesn't sound great. In fact, it drones, with an augmented sound that isn't particularly natural and can get on your nerves, especially at higher revs, where cars such as these should be thrilling. The gearbox removes a layer of involvement as well. While the shifts are quick enough, it feels as though the transmission is at the limit of what it can handle; changes sometimes jerk through, while in our car downshifts from third to second thumped home. Combine that with the aggressive locking differential and it's a full-on driving experience. Go to full throttle on a back road and you'll feel the steering wheel pulling as it wriggles with torque steer. That's actually the most feedback you'll get from the steering; it's not as communicative as the R.S.'s set-up.
The GP is a bundle of energy on the move, but it feels so focused, like a mini touring car. As a fast hot hatch for the road, it would be a better dynamically if a few of these sharp edges could be rounded off.
Practicality
There are two ways to look at the GP's practicality. One is that, with the removal of the back seats and the fitment of a strut brace it's an enormously practical two-seater, with up to 816 litres of boot space. The other is that it's an expensive two-seat-only hot hatch.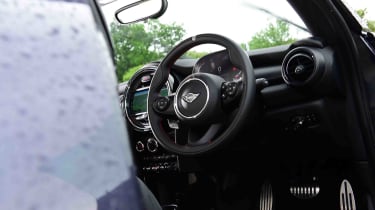 Your view will probably depend on how you use it. As a vehicle for high days and track days, this will likely not matter too much. If you want the most focused MINI there is, but still need space for more than one passenger, even occasionally, then the GP is compromised, especially compared with the Renault. Otherwise, it's the same as with any other MINI, so the cabin ergonomics and driving position are mostly sound and there's enough storage. 
Ownership
Neither brand scored particularly well with owners in our Driver Power 2020 satisfaction survey, but MINI's 26th place result was towards the bottom of the table. 
Respondents criticised MINI's cars for boot space and practicality, running costs and safety features. While the GP has grippy tyres and upgraded brakes, only autonomous emergency braking is standard. There's no other optional safety kit. When Euro NCAP tested this Mk3 MINI in 2014, it scored four stars.
Running costs
Neither car was especially economical on test, but the MINI's 29.3mpg is still very respectable given its performance. It beat the Renault by 1.4mpg, most likely due to its lower weight, even though it has slightly more power. When cruising, the auto box helps keep the revs low, too. The two cars will cost £2,128 and £2,235 to fuel a year respectively, while the limited-run MINI will hold on to more value for cash buyers.
Just 3,000 cars will be built, of which only 575 will make it to the UK, so its exclusivity means a predicted residual value of 56.5 per cent. As a result, the GP will lose £15,372 over three years/36,000 miles, whereas the Renault's residual value is predicted to be around 49.9 per cent after the same period, equating to depreciation of £16,544.
Testers' notes
"We're not sure this generation of GP is going to go down in history like the first and second-generation models that have made the nameplate such an exciting proposition, which is a real shame."
Renault Megane R.S. Trophy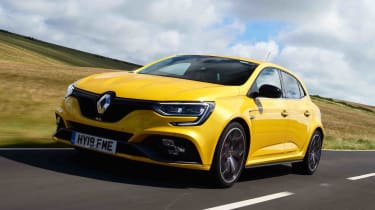 | | |
| --- | --- |
| Model: | Renault Mégane R.S. 300 Trophy |
| Price: | £32,995 |
| Engine: | 1.8-litre 4cyl turbo, 296bhp  |
| 0-62mph: | 5.7 seconds |
| Test economy: | 27.9mpg/6.1mpl  |
| CO2: | 185g/km   |
| Annual road tax:  | £150 |
At £32,995 for the manual Mégane R.S. Trophy model, the Renault is slightly cheaper than the MINI, but we've gone for this version of the car because these models are all about involvement.
Design & engineering
If you want an auto, there's a dual-clutch model for another £1,500, closing the price gap to the MINI, but either way the Renault has price on its side. However, that's less important here. These cars are more about the engineering detail and how they feel on the move – and the R.S. has plenty of interesting features, since the Trophy is fitted with Renault's Cup chassis.
As with the MINI, there's tuned suspension here for this more focused hot hatch, but the Renault features clever hydraulic bump stops as well.
There's an equally effective mechanical locking differential on the front wheels, but power from the 1.8-litre four-cylinder turbo engine is sent there through a six-speed manual box. The engine makes 296bhp and 400Nm, so it's down on the MINI, while the Mégane is also 164kg heavier, at 1,419kg.
That's in part due to a four-wheel-steer system that's been designed and engineered to improve agility. The rear wheels turn in the opposite direction to the front ones at up to 37mph to reduce the turning circle and make the car feel more responsive, but put it in Race mode and this happens at up to 62mph.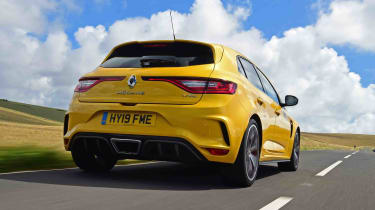 There's also a choice of Normal, Sport and Race driving modes, with the latter increasing the steering weight and releasing a few more decibels from the central-exit sports exhaust, another similar feature to the GP. The Renault's optional £1,500 Recaro sports seats that were fitted in our test car are much more supportive than the seats in the MINI; you also sit lower. The driving position isn't perfect, but the Renault feels just a touch better thought out compared with the MINI.
Driving
Both of these hot hatchbacks are hardcore, focused models, but the Renault's set-up and approach seem more natural. The steering weight isn't as heavy and doesn't feel as artificial, either. There's more in the way of feedback as a result and, once you learn to work with the four-wheel steering and get used to its sensations, it's a nice engineering trick that helps.
That's partly because the chassis serves up so much grip – at least as much as the MINI – yet there's more composure, too. The GP feels too stiff for most British roads where you'd expect a hot hatch to excel; the R.S. is still stiff, but there's an extra layer of compliance and absorption to the damping that keeps the tyre in contact with the road for longer.
It means the Mégane doesn't hop and skip around anywhere near as much as the MINI. It feels more settled, which helps comfort when cruising, but it also offers more options in how to pick apart a road – the GP just steamrollers it on its firm springs and dampers, which isn't always the best way, but the R.S. has the ability to flow with the road more.
Its engine isn't as punchy, though. It gives away capacity to the MINI, explaining some of the power and torque deficit, but despite carrying around more weight, too, the Mégane is still only half a second slower from 0-62mph, taking 5.7 seconds. The engine likes to rev, so it's still fun to work it, and while the six-speed manual isn't one of the slickest gearboxes, it's still nice to have this extra layer of involvement.
In Race mode you get a few pops from the exhaust, too, adding a little to its personality. Despite the MINI's fruitier exhaust, it rarely does this – only on start-up – which is a shame, because it drones most of the time. Overall the R.S. is the more exciting, involving car.
Practicality
It backs this up with more practicality. Despite having back seats, it doesn't feel that much less of a focused machine, while this means it obviously boasts much more usability.
The Renault is also a bigger car, so there's more room inside and, even though there's lots of luggage space in the MINI due to a lack of back seats, there's still 384 litres in the Renault with the rear seats up. Fold them and there's 1,247 litres available. If you're into track days and really want to reduce weight you can take them out; but it'll take a little work and won't convert it into a Trophy R, so we wouldn't bother.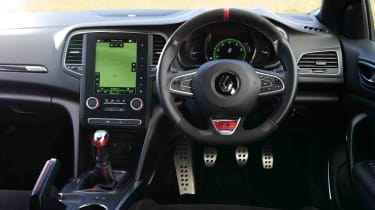 The Renault's 4Control steering system helps reduce the turning circle to 10.3 metres. It means you can have quick steering and a relatively good turning circle. The MINI's turning circle is okay, but its more compact dimensions mean it's easy to get a sense of where the car's extremities are.
Ownership
Renault's 15th-place result in our Driver Power 2020 survey beat MINI, but it's still only mid-table. Owners rated the firm relatively well for running costs, but this is a hot hatch so it might not live up to that reputation, while Renault's scores in all the other categories were middling, so it's overall position is no surprise.
At least safety is strong. The Mégane range was awarded a full five-star Euro NCAP rating in 2015, but autonomous emergency braking is part of a £400 pack here. Blind-spot assist comes in a £500 pack that adds a 360-degree camera and hands-free parking. Lane-departure warning costs £250.
Running costs
Few people will run a hot hatch as a company car, especially hardcore ones like these, but it's worth noting that both sit in the top 37 per cent Benefit-in-Kind tax bracket, so the MINI will cost a higher-rate earner £5,143 a year, while the Renault will cost the same driver £4,746.
Instead, given both are focused cars with sticky rubber, consumables such as tyres might be a bigger factor. The GP runs on rubber that costs £153 fitted, while the Renault's fronts cost £156 including fitting, and they're for bigger wheels (19-inch vs 18-inch).
Testers' notes
"While the Mégane's manual gearshift isn't the most precise, with a slightly rubbery, notchy feel, it still proves how a manual transmission in cars like these really helps immerse you in the driving experience."
Verdict
First place: Renault Megane R.S. Trophy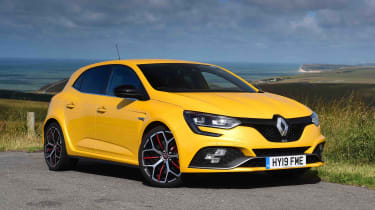 The Mégane R.S. is much more similar in approach to the MINI than it might outwardly seem. However, it strings its different technical highlights together better to make one complete, usable package that feels more natural on British roads than the MINI. An added bonus, if not the main consideration with cars like these, is that the Renault is more practical, cheaper to buy and easier to live with.
Second place: MINI JCW GP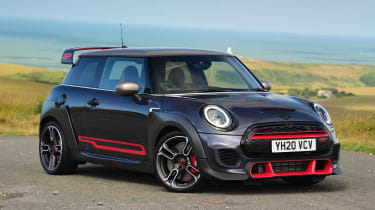 This GP fits the bill of a limited-run hardcore hatchback well, but even taking price out of the equation, while it has rarity on its side, the MINI isn't as accomplished dynamically, which is ultimately what these cars have to deliver. It's fast but flawed – the engine isn't as nice, the gearbox seems an odd choice, and the chassis is too firm and unyielding for the UK's roads. 
Coming soon...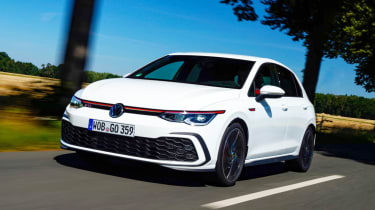 Model: Volkswagen Golf GTI
DUE: Q3 2020 Price: £34k (est.) 
Engine: 2.0-litre TSI, 242bhp
The new Golf GTI might not be as fast or quite as focused as its rivals here, but we know it's still brilliant to drive. There will be a choice of manual or DSG gearboxes, and lots of usability at a similar price.
Figures
| | | |
| --- | --- | --- |
|   | Renault Mégane R.S. 300 Trophy | MINI JCW GP |
| On the road price/total as tested | £32,995/£36,085 | £35,345/£37,345 |
| Residual value (after 3yrs/36,000) | £16,451/49.9% | £19,973/56.5% |
| Depreciation | £16,544 | £15,372 |
| Annual tax liability std/higher rate | £2,373/£4,746 | £2,571/£5,143 |
| Annual fuel cost (12k/20k miles) | £2,235/£3,725 | £2,128/£3,547 |
| Insurance group/quote/VED | 37/£647/£150 | 37/£659/£150 |
| Cost of servicing | £9 per month (3 years) | £18 per month (3yrs) |
| Length/wheelbase | 4,372/2,669mm | 3,879/2,495mm |
| Height/width | 1,445/1,874mm | 1,420/1,762mm |
| Engine | 4cyl in-line/1,798cc | 4cyl in-line/1,998cc |
| Peak power/revs  | 296/6,000 bhp/rpm | 302/5,000 bhp/rpm |
| Peak torque/revs  | 400/3,200 Nm/rpm | 450/1,750 Nm/rpm |
| Transmission  | 6-speed manual/fwd | 8-speed auto/fwd |
| Fuel tank capacity/spare wheel | 50 litres/repair kit | 44 litres/repair kit |
| Boot capacity (seats up/down) | 384/1,247 litres | N/A/612-816 litres |
| Kerbweight/payload | 1,419/480kg | 1,255kg/TBC |
| Turning circle | 10.3 metres | 10.8 metres |
| Basic warranty (miles)/recovery | 5yrs (100,000)/3yrs | 3yrs (unlimited)/3yrs |
| Driver Power manufacturer/dealer pos. | 15th/26th | 26th/21st |
| NCAP: Adult/child/ped./assist/stars | 88/87/71/71/5 (2015) | 79/73/66/56/4 (2014) |
| 0-62mph/top speed | 5.7 secs/162mph | 5.2 secs/164mph |
| Auto Express econ. (mpg/mpl)/range | 27.9/6.1/307 miles | 29.3/6.4/284 miles |
| WLTP combined  | 34.4mpg | 34.0mpg |
| WLTP combined  | 7.6mpl | 7.5mpl |
| Actual/claimed CO2/tax bracket | 234/185g/km/37% | 223/189g/km/37% |
| Airbags/Isofix | Six/yes | Six/yes |
| Parking sensors/parking camera | Yes/£400* | No/no |
| Auto gearbox/lane-keep assist | £1,500/£250 | Yes/no |
| Blind-spot assist/AEB | £500*/£400* | No/yes |
| Clim./cruise ctrl/leather/heated seats | Yes/yes/no/£1,200* | £2,000*/y/n/£2,000* |
| Metallic paint/LED lights | £1,300/yes | No/yes |
| Keyless entry and go/pwr tailgate | Yes/no | No/no |
| Sat-nav/digital dashboard | Yes/yes | £2,000*/yes |
| DAB radio/connected services | Yes/yes | Yes/£2,000* |
| Wireless charging | No | £2,000* |
| Apple CarPlay/Android Auto | Yes/yes | £2,000*/no |