R8 Spyder vs. super-rich thrills
Is the new £112,000 Audi R8 Spyder the ultimate rich man's plaything? We test it with three wild alternatives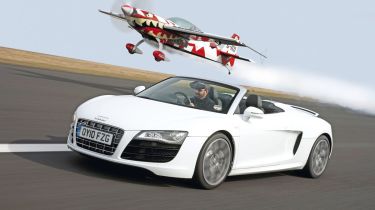 If you're lucky enough to be considering ownership of a new Audi R8 Spyder supercar, then the chances are it won't be your only vehicle. Instead, the £111,995 drop-top will most likely be kept for weekend thrills, when the sun is shining and the roads are clear.
That being the case, there are plenty of other ways to get your super-rich kicks, but which six-figure purchase is the most intoxicating and desirable piece of kit out there? To find out, we've gathered together some of the most exciting – and expensive – rivals ever to feature in an Auto Express road test.
First up, we take to the skies in an incredible aerobatic plane. With its neck-snapping agility, the Extra 200 delivers the kind of heart-thumping excitement that few competitors can match.
We drop down to sea-level for a spin in our next R8 Spyder challenger: a racing powerboat. The Hunton has a mighty 1,150bhp, which means it can deliver more than twice the power of the Audi.
But the R8 isn't simply about maximum performance and incredible driver involvement. Look under the Spyder's head-turning exterior, and you'll discover a hand-built machine. The craftsmanship and attention to detail are similar to that found in luxury, high-end watches.
So, our final encounter sees the German machine face up to an exquisitely engineered timepiece, the Graham Tourbillograph.
Get ready, get set and buckle up for one of the most exciting and unusual encounters of 2010, as we travel through air, on sea and across land to bring you the ultimate road test experience...