Fiat Doblo vs Peugeot Tepee
Fiat's boxy new Doblo faces class-leading Peugeot Partner Tepee in a practical people carrier battle...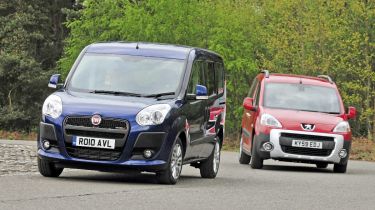 Maximum function, minimum fuss. This is the mantra followed by van designers for years – and it sets the hardest-working models apart from the practicality pretenders.
Apply the same logic to the new car market and you end up with something similar to Fiat's original Doblo. With its roots in the commercial vehicle market, the basic people carrier has found more than a million buyers since it was launched in 2000.
But recently, it's been left behind by more modern and capable competitors. While the latest entry-level MPVs still serve up van-shaped practicality, they've consigned wooden driving dynamics to history – and don't understand the word compromise.
Peugeot launched the Partner Tepee in 2008, and it scored its first road test victory on its debut appearance in Auto Express soon after. Ever since 
then, we've been absolutely smitten with the sensational flexibility on offer from the Lion and its Citroen Berlingo Multispace cousin.
Realising there is some ground to make up on these opponents, Fiat has gone back to the drawing board, redesigning the Doblo from the ground up. The question is, does it have what it takes to outmanoeuvre the class's most versatile contender?
Verdict
Big space for small cost. That's what any MPV with a commercial vehicle cousin should be all about. But it's not an equation found on the spec sheets of either of these contenders.
Instead, Fiat and Peugeot have pushed their plush practical champions into more challenging price brackets… While finely tuned driving dynamics and a high-quality cabin help the Partner Tepee fit in among the mainstream family car competition, the Doblo doesn't pull off the same trick.
In more basic form, and with a more palatable price tag, the big Fiat holds all the appeal that made its predecessor such a hit. But it's hard to ignore the lacklustre performance and basic cabin when you're paying nearly £17,000. Although neither of these versatile people carriers would leave you wanting more space, the Tepee makes more sense at this price level.
1st: Peugeot Partner Tepee HDi Outdoor
Honest, hard-working practicality has never come in quite such a complete package as the Partner Tepee (or its Citroen Berlingo equivalent). It's a fine family choice, proving that buyers don't need to compromise on driving dynamics or cabin quality when choosing a van-shaped MPV – as long as you like the way it looks.
2nd: Fiat Doblo 1.6 Multijet
The Fiat does a lot of things right, but it can't match the Tepee's all-round appeal. A luxurious equipment tally is part of the firm's justification of the price, yet the Doblo is far more appealing in basic trim. Got around £12,000 to spend? Be sure to check out the entry-level model.