Vauxhall Astra Sports Tourer vs rivals
Practical and stylish new Astra Sports Tourer meets key rivals.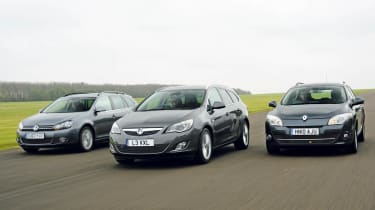 Do the best things come to those who wait? If so, the new Astra Sports Tourer could be the pick of Vauxhall's family car range. It's over a year since the firm launched the Astra hatch, and the load carrier's stylish rear end delivers a hefty dose of practicality without compromising the classy looks.
Here we try the 1.7 CDTI diesel in SE trim, but it faces a titanic struggle if it wants to secure a maiden group test victory. Up against it is the class-leading
Volkswagen Golf Estate
, which we try in Sportline spec, while the spacious and stylish Renault Mégane Sport Tourer in Dynamique TomTom trim completes our trio.
Both rivals are cheaper than the Vauxhall and they come with punchier diesels, which is sure to count in their favour. The Astra has cleaner emissions, but it will be far from easy for it to claim outright honours.
Verdict
This test proves that there's life in the traditional estate car yet. Our trio all make fine family motors, but there can be only one winner – and that is the VW Golf.
It's spacious, refined and beautifully built. And while it doesn't look as sharp as its opponents here, it proves that practicality needn't come at the expense of desirability. Affordable running costs and capable dynamics seal the deal.
Separating the other cars was easy after Renault's recent restructuring. Before Christmas, the firm announced an overhaul of its line-up – so while the Golf and Astra have increased in price with the arrival of the new 20 per cent VAT rate, the Mégane is now cheaper. It's also stylish, versatile and very well equipped, while keen drivers will revel in its sharp chassis and punchy performance. Yes, its build quality feels below par in this company, but the lower price makes that understandable.
Third place goes to the Astra Sports Tourer. Eye-catching looks and a high-quality cabin ensure it holds the greatest showroom appeal, and it has a large boot. But sluggish performance and a high list price cost it dearly.