Honda Jazz hybrid vs rivals
New Honda Jazz hybrid meets petrol SEAT and diesel Skoda rivals. Which gets our vote?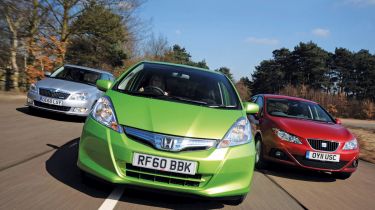 Rising fuel prices and crowded roads mean 
efficient small cars are big news. Traditionally, that would have made a diesel supermini a must for every car manufacturer... 
but times are changing.
Honda doesn't offer an oil-burning version of the practical Jazz hatchback, so it was only a matter of time before its hybrid IMA technology was adopted.
The result is a car that mixes class-leading cabin space with claimed economy of 62.9mpg. The newcomer relies on the 
petrol-electric principles that underpin Honda's Insight, Civic IMA and CRZ
models. In fact, the Jazz Hybrid features the same powertrain as the Insight, and emits only 104g/km of CO2 – that's 21g/km less than the 
conventional 1.2-litre version.
But the entry-level HE model costs £15,995 – and there are cheaper frugal superminis out there. The first rival waiting to test itself against the hi-tech Honda takes the traditional 
diesel approach to maximising efficiency. Skoda's new Fabia GreenLine II is powered by VW's proven three-cylinder TDI unit, and with tall gearing and aero tweaks, it emits only 89g/km 
of CO2 and claims staggering economy of 83.1mpg.
Conventional petrol cars can be efficient, too, and Skoda sister firm SEAT has the newest eco 
kid on the block in the shape 
of the Ibiza. Its 1.2-litre TSI engine promises 55.4mpg.
Both are cheaper than the clever Honda, but which one 
hits the supermini sweet spot 
for cost-conscious motorists?
Verdict
Economical small cars come in all shapes and sizes, and each of our contenders here has a unique selling point. But which combines efficiency and usability best?
While the fuel economy of the Fabia GreenLine II is impressive, the compromises demanded on performance and refinement are simply too great. It wins if penny-pinching thirst is at the top of your agenda; but as an all-round package, the gruff diesel engine, sluggish pace, dated looks and budget cabin cost the Skoda dear.
The Jazz is the top choice for buyers who value practicality above all else. The addition of a hybrid drivetrain hasn't affected its ingenious interior packaging. Trouble is, while Honda's petrol-electric drivetrain is advanced, it doesn't live up to its billing. Poor fuel economy and an unappealing CVT gearbox take the edge off the Jazz ownership experience.
Our winner is the car that demands fewest sacrifices, and the SEAT is good to drive, frugal and clean. If you divide your time between town, the open road and motorway, it's the clear winner. It edges out the Skoda on economy, leaving the expensive hybrid Honda a disappointing third.