Tow Car of the Year 2013
We team up with the experts from The Caravan Club to name the best tow car in Britain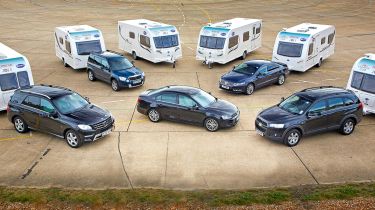 Caravanning is hugely popular in Britain, and there's a caravan to suit you whether you're planning short weekend breaks or long family holidays. But whatever you're pulling, you won't get far without a competent tow car.
Once again, Auto Express has made it easy for you to find your perfect pulling partner – teaming up with The Caravan Club to deliver the definitive verdict. We put 23 new cars through a series of tough tests to name the Tow Car of the Year 2013.
This year, there were a few changes to the test, with models being categorised by their CO2-based road tax band, rather than their price. But the four-wheel-drive tow cars we tested were still split into under and over 1,800kg categories.
How we did it
Our three-day tow car test took place at Millbrook Proving Ground, Beds, with a fleet of Bailey caravans. Ballast was added to each car to simulate the weight of a family of four, with the vans loaded to 85 per cent of their kerbweight.
Noseweights (the maximum load a caravan can put on a car's towball) were set to the recommended limits: five to seven per cent of the caravan's running weight or the maximum stipulated weight for the coupling head – whichever was lower.
We did a lap of Millbrook's two-mile high-speed bowl, so our judges could rate stability at speed and the effect of crosswinds on the car and caravan. We also did an emergency stop from 50mph, and rated each car's pulling power in 30-50mph and 40-60mph acceleration tests.
A lap of Millbrook's Alpine hill route – with its 14 and 21 per cent inclines – tested the cars' ability to do hill starts, plus we rated hand, foot and electric parking brakes. Finally, we looked at the 'caravanability' of each model – how easily it swallowed a list of camping kit, from awnings to picnic tables.
The Caravan Club
One again, we joined forces with The Caravan Club to perform this special test. The 375,000 families who are members own around 500,000 cars between them, so the verdict in its 30th Tow Car of the Year awards has a lot of clout.
Yet although The Caravan Club is over a century old, it's moving with the times – this year's award categories are based on CO2 emissions, as many buyers focus on road tax costs as much as price. So the tow cars tested are split into g/km groups, apart from in the 4x4 class, where kerbweight counts.
Prices quoted throughout this test include cost of towing bracket/power sockets and 13-pin adaptor if needed, unless stated.