Caterham Seven 165
Entry-level Caterham Seven 165 will have 80bhp and 107Nm of torque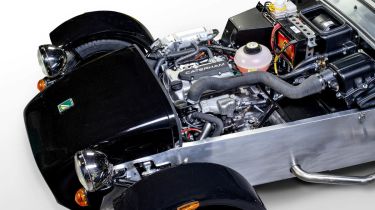 Caterham has revealed more details on its new ready-built entry-level Seven 165, which will be called the Seven 160 in the UK.
Caterham is aiming for a starting price of less than £17,000, with power coming from a turbocharged 660cc Suzuki three-cylinder engine. It'll be tweaked by Caterham Technology and Innovation to produce 80bhp and 107Nm of torque.
There are no performance specs just yet but with its low kerbweight the 165 should be able to accelerate from 0-62mph in around 6.5 seconds and on to a top speed of around 100mph.
The UK version of the 165 wears the 160 badge and will receive a few minor modifications. Not that buyers will likely notice any difference – the 160 will still have the same 80bhp and 107Nm figures as the 165.
Caterham hasn't revealed the kind of fuel economy the 165 will be capable of but has said that it will be EU5 compliant (hence the five at the end of the name).
Caterham Cars CEO, Graham Macdonald said: "The engineering process involved in the creation of the Caterham Seven 165 is nearing completion and, as we piece together the final elements, the car we believe will inspire a new generation of drivers to become Caterham enthusiasts is taking shape in exciting fashion."
The Seven 165 begins production in January 2014 and the first cars will be delivered in spring.