"French car makers can offer a sense of style that German brands probably never will"
The Citroen C4 Cactus has led way for new breed of stylish French cars now a new Renault 5 is following suit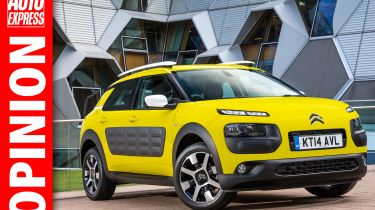 I remember many years ago a conversation with Carlos Ghosn, boss of the Renault Nissan Alliance, about how he wanted Renault to be known for its quality. We were talking about the new Laguna and particularly its smart key that would continue to work even if you left it in your pocket and your trousers went through the wash!
My point to Ghosn back then was that a certain level of quality was a given, but surely French car makers had something else to offer as well – a sense of style that German manufacturers have never offered, and probably never will.
That's certainly something another Carlos believes in, Peugeot/Citroen boss Carlos Tavares. This year marks the new beginning for the DS brand, sitting above Citroen and Peugeot and aiming, in the long term, straight at Audi.
It's the French sense of style, so famous among the world's leading fashion brands, that he hopes will be able to challenge the very best Germany has to offer. And yes, with the level of quality buyers of premium cars expect, too.
But what about buyers of cheaper models? We're already seeing great strides from Peugeot – the latest 308 offers near-Golf levels of quality – then there's the brilliant Citroen C4 Cactus, one of the most innovative new models of recent years. Its success will ensure more super-stylish, budget-orientated Citroens arrive in the coming years.
Which brings us back to Renault. Style is definitely back on the agenda as we've seen with the new Twingo, tested this week. And now we've uncovered plans for Renault to take a leaf out of the Cactus's book with a funky, back-to-basics new hatch in the mould of the Renault 5. It's Renault doing what it does best – affordable, stylish cars.
Do you think style can become a unique sellinging point for French cars again? Will it be enough to trump German quality? Join the debate on Twitter, on Facebook or in in the comments section below...