Citroen C4 X now available with petrol and diesel powertrains
Citroen's quirky high-riding c-segment saloon is now available with ICE engines alongside existing electric powertrain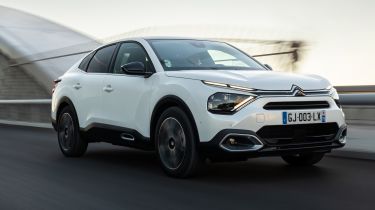 Citing customer demand, Citroen has decided to now offer its C4 X high-riding C-segment saloon with petrol and diesel powertrains alongside the initial EV-only versions. The new variants will share all their key features with the electric model, but start at a much more affordable entry price of £22,080 – nearly £10,000 less than the electric alternative.
Citroen will offer a single 1.2-litre three-cylinder petrol engine in either a 98bhp form paired to a six-speed manual, or a more powerful 128bhp tune fitted with an eight-speed automatic transmission. These will be joined by a 128bhp diesel option connected to the automatic transmission, with all models powering the front wheels exclusively. 
Petrol models will be available in four trim levels, with the diesel only available in the top-spec Sense Plus form. Prices for the ICE models span between £22,080 for the entry-level manual, topping out with the diesel at £29,170.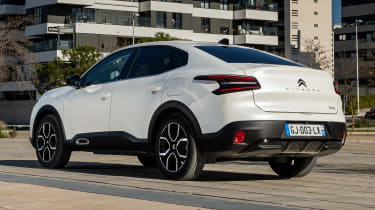 Alongside the new ICE models, the all-electric e-C4 X will pick up a new top-spec model, featuring a more powerful 154bhp e-motor drawing power from a larger 54kWh battery pack. Citroen claims a WLTP range of up to 260 miles from a charge. This new model will be available exclusively in a new top-spec e:Series trim, and will cost from £37,195 when it reaches the UK
This will join the existing 134bhp model lower down in the range in two trim levels, which will continue with its 50kWh battery pack and potential 220 mile range. Pricing for these start at £31,995.
While the body-shape might look a little eccentric, the C4 X remains a model that encapsulates the strengths of the Citroen brand. Its impressive ride quality, spacious interior and capacious boot space make it an easy car to recommend - something made easier still by the C4 X performing so strongly in our 2023 Driver Power survey. 
Now read our review of the Citroen e-C4 X...