Dacia cars: what is the secret of their success?
Cut-price car brand Dacia was a sales sensation in the UK last year. We headed to Romania to find out the secrets behind its success
Dacia testing and quality control
Our next stop is the company's engineering and testing HQ. The site is steeped in history, and is a good chance to see how the quality and standards have advanced since Renault took over in 1999.
Located in Titu, an hour-and-a-half from Bucharest, it was once a military airbase with Nicolae Ceausescu often using it to land by helicopter. Now it's a modern test centre that was only finished in 2010, and has helped Dacia bring its cars up to more modern standards.
• Cars that hold their value best
"We follow the same standards and procedures as Renault worldwide," Sorin Buse, general manager Renault technical Romania, tells us. "This is the only complete engineering centre in Eastern Europe, and in terms of the Renault group, it is the biggest outside of France."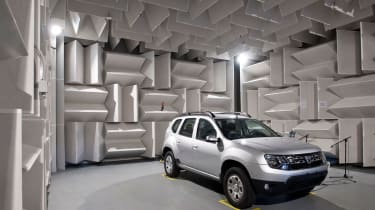 The centre is the base for a number of endurance tests, from constant door-opening robots testing joints 24 hours a day, five days a week, to exposure to high and low temperatures and humidity – 22 days of testing equates to three to five years of extreme conditions. Both are relatively new for Dacia and show the brand's continuing modernisation. The likes of the door opening test has been going for 10 years now, while extreme condition testing is just two years old.
On the road in the Dacia Logan
But as well as the controlled testing, Titu is home to around 20 miles of test track, split across 10 different trails, encompassing the likes of off-roading and cobblestones and everything else a modern car might face. And it's here, on the standard track, we're driving the Logan 1. The Logan isn't sold in the UK – only in MCV estate form – but it's Romania's best-seller. This first generation went on sale back in 2004.
There is some decent equipment on the car – we've obviously been given a top-spec model – but the interior looks drab and dated, as if it's more than 10 years old, with the ageing stereo a real giveaway. Add in the pitching and rolling in the few light corners we cover, and it's hard not to come to the conclusion that the decision not to sell the car in Britain was correct. UK buyers would surely have turned their noses up at it in an instant.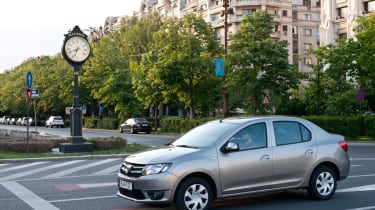 Compare that to the latest Logan, and things might not seem too different at first glance. But look deeper, and it certainly feels some steps ahead of the first model. There's still an affordable look to the car, but it has a much higher quality, robust feel.
The more modern steering wheel, sleeker audio system and updated heater dials ensure it's a much more European-looking proposition. Even the drive feels more composed as we weave through Bucharest.
Dacia: what is the secret?
What we've seen here in Romania explains exactly why Dacia has done so well since its reintroduction into the UK and other markets across the world. It's entirely comfortable as a brand knowing that it isn't up against premium offerings like Audi, and those involved know that it's value for money that counts with this manufacturer.
But it's also continually striving to improve and give customers an affordable car that far exceeds their expectations. Something, you could argue, it does better than any other brand.
What do you think of the runaway success Dacia has enjoyed in the UK? Would you consider buying a Dacia? What's the key to their appeal? Let us know your thoughts in the comments section below...