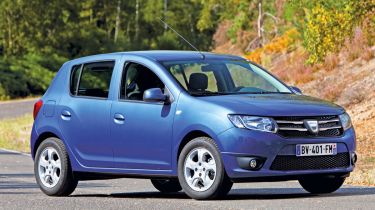 Dacia has become a popular brand in the UK since its introduction in 2012. Based on the second-generation Renault Clio, the Dacia Sandero is a sparsely-equipped car in entry-level guise, but you can't argue with this when it's the cheapest new car to buy in the country, at just shy of £6,000. 
The Sandero is a no-nonsense car with little equipment, but it offers a practical interior with a large 320-litre boot. The entry-level Access over very sparse indeed, but moving up to mid-range Ambiance or top-spec Laureate will give you essential equipment such as electric windows, central locking and Bluetooth connectivity. 
On the Ambiance and Laureate models, it's possible to replace the Access' wheezing 1.2-litre 16v engine with either a turbocharged petrol 0.9-litre TCe engine, or an economical 1.5-litre diesel unit.
It doesn't offer a thrilling drive or a luxurious cabin, but the main selling point of the Sandero - and the rest of the Dacia range - is the value it represents compared to its supermini rivals.