DS to build cars from stone
Boss reveals plans for granite in new upmarket models, plus plug-in hybrids - but no high performance models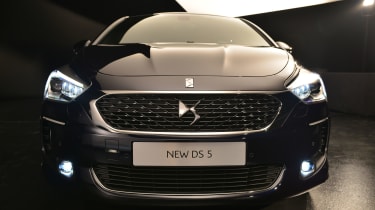 In the battle to rival premium brands like Mercedes and Jaguar, new French brand DS says it'll be the first car maker to introduce stone in its interiors.
DS boss Yves Bonnefont told Auto Express that there are four key elements to future DS models: avantgarde design, technology, dynamism and comfort, and refinement and attention to detail. Under the last element, he told us that DS will be famous for using innovative materials in its cars such as stone, with thin slivers of granite likely to adorn DS dashboards in the future.
Bonnefont also revealed that DS will be the first of the PSA group brands (ahead of Citroen and Peugeot) to introduce a plug-in hybrid model. "We'll launch it for the group," he told us, "It makes sense for a premium brand like DS to launch such technology."
• Get the latest news from the Shanghai Motor Show 2015
However, Bonnefont was clear that DS was about a blend of dynamism and comfort, with no plans for the brand to go chasing BMW's M cars with an out-and-out sporty model. "Our cars will have between 200 and 300hp, which is about right for premum models," he said. "There are many ways to produce 300hp with a variety of technologies."
Further DS Racing models, such as the DS3 Racing, were a distinct possibility in the future, though, while the DS brand heading to the US has also been discussed. "The US is still the number one market for premium cars, so it could be on the table," Bonnefont said. "For a global premium brand it's very important, but we have no plans." The PSA group would have to complete its 'back in the race' plan, which included being profitable and debt-free, before any move to the US could be considered.
Bonnefont was talking to Auto Express on the eve of the Shanghai motor show in China, where DS has been selling cars for two years, producing them in a bespoke factory. This year DS expects China to become its biggest market, with the UK in third place.