Shanghai Motor Show 2015: news round-up
The 16th annual Shanghai Motor Show has delivered a huge variety of new models, and here's our full summary
Once a year the city of Shanghai plays host to one of the largest new car shows on the planet, and the 16th year was no different. China's most popular motor show opened to press yesterday, and our reporters were out there to get to capture the latest new metal.
Once a small player in the extensive list of international motor shows, Shanghai has grown to significance over the last few years as the Chinese car market booms. It means car companies from around the world are investing billions into models that will only be sold on the Asian continent.
Our top journalists headed out to China to get up close and personal with these new models, as well as speaking to the designers and company executives to get the lowdown of concepts and cars that might head to the UK.
The likes of Mercedes, BMW, Citroen and Volvo have all shown new production or concept cars at the 2015 event, while McLaren's presence underlines the importance of the show even to specialist manufacturers.  
There was plenty of activity from other well-known car brands too with Lexus, Ford, Nissan and others in attendance showed models that we've either seen before or that are not destined for the UK.   
• Best cars at the Shanghai Motor Show 2015
Of course, China has a thriving domestic car manufacturing industry and naturally, a large part of the Shanghai Motor Show is given over to the latest models from Chinese brands like BYD, Changan and Jiangling, but home-grown Qoros has plans to make the leap over to Europe soon.
 As always, the Auto Express team reported live on the best, most relevant and oddest exhibits, full details of which can be found below...
Key cars at the 2015 Shanghai Motor Show
Top news stories from Shanghai Motor Show 2015
Shanghai Motor Show 2015: manufacturers A to Z
Audi Prologue Allroad concept
Audi's star of Shanghai was the Prologue Allroad concept. The rugged design study sports a 724bhp petrol-electric hybrid powertrain, and is essentially a jacked-up iteration of the previous Prologue Avant concept seen at the Geneva Motor Show.
The primary function of the high-riding estate concept is to provide a snapshot of what we can expect from production large Audi models in the next decade. This includes an adaptation of the trademark trapezoidal grille design, swept back headlamps and sleeker, curvier profiling. 
BMW X5 xDrive40e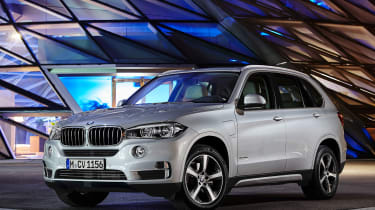 The new BMW X5 xDrive40e plug-in hybrid SUV was shown in Shanghai. Previously seen as the Concept X5 eDrive – this production ready version is BMW's first core plug-in model, following unprecedented success of the i3 and i8 from the 'i' sub brand.
Featuring a four-cylinder 242bhp turbocharged 2.0-litre petrol engine mated to a 111bhp electric motor, the xDrive40e offers a combined output of 309bhp with 350Nm of torque. All cars get an eight-speed automatic transmission, and can run for up to 19 miles on electric power alone.
Citroen Aircross concept
Citroen shook up the crossover class with the C4 Cactus last year, and the brand is now looking to replicate its success in the SUV market with the all-new Aircross concept at the Shanghai Motor Show. 
Partnership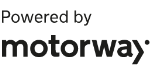 Need to sell your car?
Find your best offer from over 5,000+ dealers. It's that easy.
Beneath the Cactus-inspired exterior, the Aircross is powered by a 218bhp 1.6-litre THP petrol engine, paired to a 95bhp rear-mounted electric motor. This enables 31 miles of all-electric driving. The Aircross also promises a 4.5-second 0-62mph time, plus 166mpg economy and CO2 emissions of just 39g/km.
Honda D-Concept
Following on from Honda's striking Civic concept shown at the New York Show recently, a bold new SUV was revealed at Shanghai sporting similar design language. The same future family face debuts, albeit with a more rugged stance and distinctive sharp edges.
It's destined for the Chinese market only at the moment, although we'd be very surprised if, given Honda's ambition for more global market cars, a toned-down car similar to this became the next CR-V in the coming years.
Infiniti Q70 L Bespoke Edition and Q80 Inspiration
Infiniti played host to a 'Bespoke' version of its Chinese-only Q70 L executive saloon. The long-wheelbase model gets 150mm extra legroom as that's the fashion in Asian markets, but this Bespoke Edition claims to have a 'concept car' inspired four-seat interior. There's white quilted leather and various additional trinkets to give it extra appeal.
Also making its Shanghai debut was the striking Q80 Inspiration concept coupe. Infiniti confirmed to us last year that the elegant show car will make production before 2020.
McLaren 540C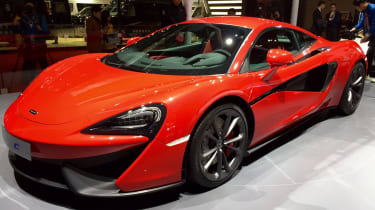 McLaren bosses have confirmed that the British brand will not introduce a model or model series beneath the new Sport Series range. The all-new 570S Coupe that made its world debut at the New York Motor Show will remain the core model in the range but a cheaper 540C, priced at around £126,000 was revealed in Shanghai to rival the Porsche 911 and Audi R8. 
Mercedes-Benz GLC Coupe
Mercedes is looking to take over BMW's dominance of the premium SUV market with two new midsize models. Development on the GLC is well underway, and now a swoopy new GLC Coupe has been shown in Shanghai. The production car is set to appear in 2016 and go head-to-head with the BMW X4.
MG GS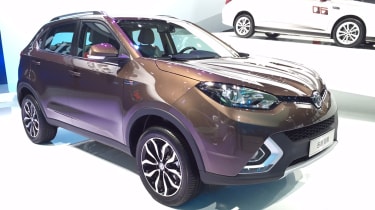 Before its new Juke rival arrives in 2017, MG will launch the larger GS SUV next year. It's set to debut in UK market form just after the Geneva Motor Show in March 2016 but the Chinese version is already on sale and on the MG stand in Shanghai. The GS will be MG's first ever entrant into the hotly-contested small SUV segment dominated by the Nissan Qashqai.
MINI Augmented Vision concept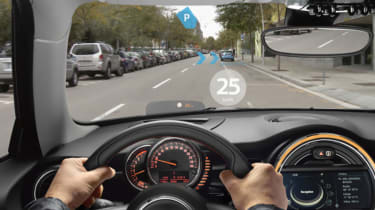 MINI unveiled its new Augmented Vision concept car in Shanghai. It's not a new model as such, more a set of virtual reality glasses that project important information into the driver's field of vision. Users will be able to see navigation data, speed limits and views from external cameras through the glasses. There's even an 'X-Ray view' mode that uses cameras to make solid parts of the car appear transparent to improve visibility.   
Peugeot 308 R HYbrid 
Peugeot stormed into the Shanghai Motor Show with a brand new concept, the 308 R HYbrid. Developed by Peugeot's in-house racing division, Peugeot Sport, the plug-in hybrid hatchback produces 493bhp from a 1.6-litre turbo and one electric motor on each axle, making the 308 R HYbird four-wheel drive.
It's loosely based around the 308 R Concept which was first showcased at the Paris Motor Show last year – a decision on whether to build it still hasn't been made – but ups the game when it comes to performance. 
Qoros 2 SUV
Shanghai-based Qoros turned up at the show with a concept for a new Nissan Juke-sized SUV. The '2 SUV' will sit underneath the 3 City SUV when it appears in China towards the end of 2015. But this isn't totally irrelevant to Brits, as Qoros is likely to be heading to the UK 
Brabus Startech Range Rover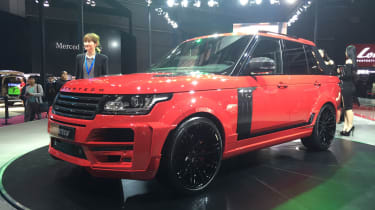 We've seen many off-the-wall prototypes at moror shows over the years, but this is up there with the weirdest. This Range Rover pick-up concept has been built by bespoke tuning firm Startech, part of the Brabus group. The firm says it will appeal to Arab buyers who would use it for falconry with a cage in the back. We're not quite sure who else it's for, though.
Volkswagen C Coupe GTE Concept
VW sprang a surprise at the 2015 Shanghai Motor Show with the C Coupe GTE concept - large four-door Coupe that will inspire a production model in 2016. Unfortunately though, unless sales of large saloons picks up significantly in Europe it's destined to be a China-only model.
Volvo XC90 Excellence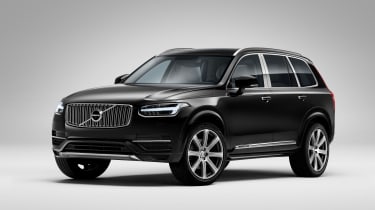 Volvo's new XC90 is already causing a stir in the luxury SUV sector but we've been given a clue as to how the range could expand in future at Shanghai. The XC90 Excellence is a super-luxury version of the XC90. 
In the Excellence, the XC90 SUV's five rear seats are replaced with two individual massaging chairs – and there's more legroom, retractable touchscreens, folding tables plus a refrigerator with bottle and glass holders. There are also hand-made crystal glasses in the central rear console made by  leading Swedish glass design company, Orrefors. A Bowers & Wilkins audio system with 19 speakers, extra leather trimmings, ambient lighting and noise-cancelling tyres make the cut too.