'Things are finally going to get interesting for DS in 2017'
Progress on DS' assault on the car market has appeared slow up to now, but that could change, says Graham Hope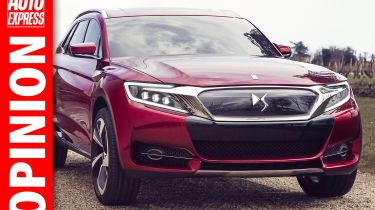 There are many car brands that need a big 2017, but few more so than DS. When it split from Citroen a couple of years ago, it was very much a 'soft' launch; there was no genuinely new product. Instead it has concentrated on building its infrastructure in preparation for a major assault.
It's a strategy that has meant progress has appeared slow. But when I caught up with sales and marketing boss Arnaud Ribault at the new DS Urban Store in the Westfield London shopping mall, he made it clear that the vision for DS remains on track.
"Yes, the volume has decreased [since launch]," he said. "But that is fine with our strategy as we have a good transformation in brand image. The most important work we do is to create the distribution system and work on the customer experience."
• Divine DS concept car review
Ribault is a realist, though, and accepts that DS's future will be determined by the cars it makes. To that end he is hugely excited by the near-production ready SUV that will appear at the 2017 Geneva Motor Show, likely to be strongly influenced by the Wild Rubis concept. "It will be our flagship and pull the brand. It will be a big step in our project in terms of tech and equipment," admitted Ribault.
It'll go on sale in 2018, to be followed by five more new DS cars that will be sold globally and all offer electrification; an interesting prospect. Intriguingly Ribault told me DS's Canadian joint venture with Quebec and Exagon is working to "create components for high-performance electric cars – between 400bhp and 700bhp". We know the E-Tense concept had around 400bhp, but could something truly thrilling also be in the pipeline?
Time will tell, but what is clear is that things are finally moving in terms of new cars. Many will be watching this most ambitious of projects with a keen eye over the next 12 months, myself included.
What do you think of DS' plans for 2017? Leave us a comment below...