Dunlop Sport BluResponse review
We found the Dunlop Sport BluResponse easy on the wallet and fairly refined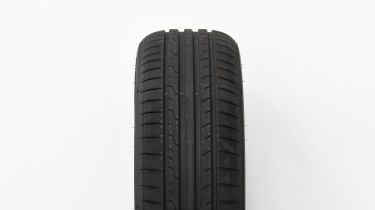 In association with

As brand licensee Goodyear's focus switches to its own products, the development of Dunlop tyres looks to have been put on the back burner. 
This tyre has been around since 2013, won this test in 2014, and was a close runner-up in 2017. There will have been tweaks and upgrades to the product over the years, but fundamentally this is still a seven-year-old design. And the opposition – not least stablemate Goodyear – has moved things on. 
Despite its age, it is still a deep-water star, taking the win in a straight line and a close third in the lateral test. Sadly that didn't translate to wet handling, where it struggled, and it needed more than three metres longer to stop than our winner.
On track it was limited by the front, which needed patience and more lock compared to the best. In long curves you had to wait to accelerate if it was to keep the line.
On a dry track, the handling had a sporting edge and it needed less lock than many, but it dropped away as the tyre got hotter. Even so, it was just half a second off its winning stablemate. It was one of the quietest, and proved again that Goodyear/Dunlop engineers have found something when it comes to rolling resistance.
Blackcircle.com says…
"Another tyre that's popular with customers. More than 3,600 reviews have resulted in an overall score of 4.6/5. It is a slightly older tyre now, which may explain its lower position."
Figures
Dunlop Sport BluResponse
 
Overall
98.50%
8th
Price
£69.94
 
Wet handling 
97.40%
10th
Wet braking 
91.50%
9th
Straight aquaplaning
100%
1st
Curved aquaplaning
97.30%
3rd
Dry handling
99.10%
=5th
Dry braking 
98.20%
7th
Rolling resistance 
90.50%
3rd
Cabin noise 
99.40%
3rd