Fiat Fullback pick-up truck axed from Fiat range
Poor sales and new emissions laws mean the Fiat Fullback pick-up truck has been axed from the Fiat model range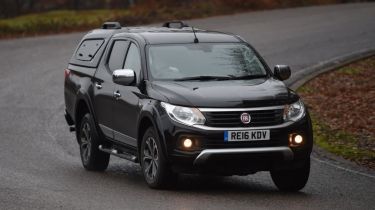 It was a quick fix to add a large 4x4 to the Fiat range, but the Fiat Fullback pick-up truck is no longer for sale. The news came from the Commercial Vehicle Show in Birmingham, where the head of Fiat Professional, Richard Chamberlain, confirmed its demise to Auto Express.
"A combination of factors has led to the Fullback no longer being on sale," he confirmed. "Low sales volumes and the forthcoming Euro 6 diesel emissions legislation meant it was no longer viable for Fiat Professional to offer the Fullback."
That's a shame, because the Fullback was based on our favourite pickup truck, the award-winning Mitsubishi L200. That model is being updated later this year, but Fiat has decided not to continue with its own version. As it was a badge engineering exercise, the Fullback was essentially the same truck as the L200 with a slightly different spec. One highlight was the Fullback Cross, which added some style to the mix with a unique roll bar and exclusive colours to deliver a pick-up truck designed to make it attractive as a lifestyle vehicle.
Elsewhere, the Fiat Professional range continues as normal, with the Ducato, Talento, Doblo and Fiorino all remaining in production with engines that meet the new emissions laws that come into force in September.
While the Vauxhall Combo small van is now aligned with the Citroen Berlingo, its old tech-sharing partner, the Fiat Doblo, is continuing to sell well, with no plans for it to be replaced. "The Doblo was already the market leader in terms of payload and body variety [in the small van class], our rivals are just catching up," said Chamberlain.
The Talento will gain new infotainment systems to keep it fresh, while the Ducato large van continues for now with locally converted electric versions available to compete with rivals. We can expect a factory-built Ducato EV when the next-generation model arrives in a couple of years' time.
Are you sad to see the Fiat Fullback go? Let us know in the comments below...