Fiat Doblo Cargo van review
With a wide range of engines and capacities, the Fiat Doblo Cargo is a serious contender in the small van segment
For a van with two International Van of the Year awards safely stowed in its trophy cabinet, Fiat's Doblo Cargo doesn't always get the credit it deserves.
The original, slightly odd-looking, Doblo Cargo arrived in 2000, but claimed the International Van of the Year crown after a facelift improved matters in 2006. The second generation model took its bow in 2010, alongside its Vauxhall Combo sister vehicle, and the Doblo was again named International Van of the Year in 2011.
Fiat further revised the Doblo Cargo in 2015 to help it build on its relatively minor share of the UK small van market. To do that, it'll need to put one over on the likes of the Citroen Berlingo, Peugeot Partner, Ford Transit Connect, Renault Kangoo and Volkswagen Caddy.
The most recent redesign gives the Fiat Doblo Cargo a smarter look with a wider grille topped by revised headlamps and a sculpted bonnet, although you'd still struggle to call it pretty. The bumper below is chunkier than it was, for added protection and to contribute to the Doblo's purposeful visuals with longer horizontal lines.
Of more importance to operators will be improvements to the Doblo's refinement, gearchange and engine response, with the move to Euro 6 engines, that further boost an impressive dynamic package built on the van's independent rear suspension. Traction+ versions add an electronic differential to help get you out of slippery situations, and Doblo Cargo Ecojet models feature a package of improvements to boost economy by up to 15 per cent. Trim levels run from the base model through EcoJet and SX to fully-loaded Technico.
With the adoption of EU6 engines the range starts with a 1.4-litre petrol engine offering 95hp. There is also a choice of three MultiJet II diesels, with a 1.3-litre unit propping up the range with 95bhp - up from 90hp on the previous model. Above sits a 1.6-litre MultiJet II with 105bhp or a range-topping 120hp. This higher horsepower engine replaces the previous 2.0-litre engine.
Fiat's Doblo Cargo has one of the widest ranges of load volume and carrying capacity in the compact van market too. There are short- and long-wheelbase versions of low- and high-roof models, Combi variants with a second row of seating and the Work-Up pick-up. Basically, you're spoiled for choice.
MPG, CO2 and Running Costs
The 1.4-litre petrol engine option is the entry-point in the Doblo Cargo range but the vast majority of buyers will take one of the MultiJet II common-rail diesels.
From a fuel economy point of view these units do well, with the 1.3-litre MultiJet II turning in a 56.5mpg showing on the combined cycle. Of course, you can improve that with the full EcoJet pack.
EcoJet add-ons include Start&Stop but also an aerodynamics pack, low-rolling resistance tyres, low viscosity oil, an intelligent alternator and a variable displacement oil pump. The result is economy of 61.4mpg with emissions of 120g/km, making the Doblo 1.3 MultiJet II EcoJet one of the greenest vans in the class.
Fiat reckons that the £520 cost of the EcoJet pack can be recouped in fuel savings within one and a half years, when owners cover more than 20,000 miles per year. Step up to the 1.6-litre MultiJet II diesel and you can expect an impressive 55.4mpg and 134g/km with either power output. The Comfort-Matic automated transmission is no longer offered on the Doblo Cargo at present.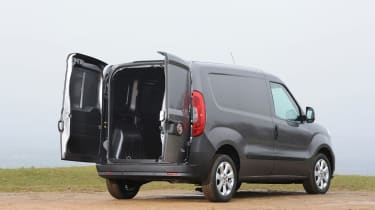 Fiat still has some work to do before the van's residual values stack up to its rivals, though there is no reason for this other than perceived longevity concerns. However when up against rivals from Volkswagen and Mercedes in this sector, that's always going to be a tough ask. List prices remain highly competitive though.
Load Space and Practicality
Compact vans don't usually offer the kind of sprawling model ranges we're used to seeing in the larger panel van sector but the Fiat Doblo Cargo gets close. Unusually for this area of the market, the van comes not only in short and 'MAXI' long wheelbase guises but also with two roof heights.
There are the usual passenger-carrying Combi crew van versions too, and Fiat also offers a proper platform cab ready to take all kinds of load-carrying modifications, as well as a factory-built pick-up called the Work-Up.
The biggest Doblo Cargo van is the XL model that combines the long wheelbase with the high roof to produce a load volume of 5.0 cubic metres. Combined with the maximum payload of 1,005kg, that gives the van the kind of carrying capacity normally associated with the small panel van segment above. There are rival compact vans that do now come close to matching the Doblo for load volume and payload but none can offer both on the Doblo's level.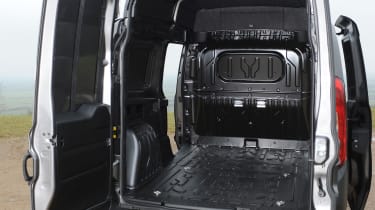 To give you access to this large and usefully square load bay, Doblo vans are available with a single sliding side door or with two side doors. You can also choose between twin asymmetric rear doors, with or without glazing, or a lift-up tailgate.
Fiat offers a host of load-carrying accessories, including roof bars and carriers, tow bars and interior storage add-ons. There's even a removable torch in the load area and the latest vans have specially-designed door handles that can be operated with the lightest of touches.
At launch, a major chink in the Fiat Doblo's armour was that ESC stability control didn't make the standard equipment list. That's no longer the case as all models now get ESC as well as ABS with EBD, Brake Assist, a hill holder system and a driver's airbag.
It isn't the most extensive standard safety kit list in the sector but passenger and side airbags can be added from the options list along with tyre pressure monitoring. On the security front, the Doblo doesn't get an alarm as standard, which is a bit of an oversight. It does however come with deadlocks and remote cenral locking on all models.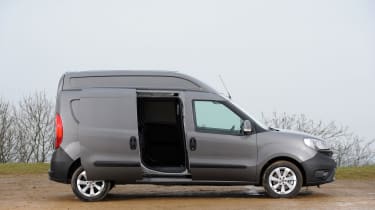 With service intervals set at 21,000 miles, Fiat is showing confidence in its engines. The Doblo is covered under a three-year/120,000-mile warranty and comes with three years of AA cover to keep things moving.
One of the key selling points for the Doblo Cargo is its rear suspension system. This is a fully independent set-up that's been adapted to cope with the heavy load-carrying demands of a commercial vehicle. It delivers tangible benefits from a driving perspective with the Fiat offering a smoother ride than before and reasonable handling, particularly at low speeds. However, a Ford Transit Connect will still run rings around it if sharp handling is what you look for in a small van.
Unsurprisingly, the long-wheelbase MAXI models feel more composed, with better ride comfort and a planted feel in the corners that the standard-length vans can't quite match.
Across the range, the steering is light but not particularly precise. It's good for urban driving but more weight and sharpness would be preferable for B-road and motorway trips. Even in the tall high-roof models there's very little body roll so you can corner with confidence, making it even more of a shame that the steering lets the side down a little. Due to the shape of the raised top, those high-roof variants don't suffer more in crosswinds than the standard Doblo.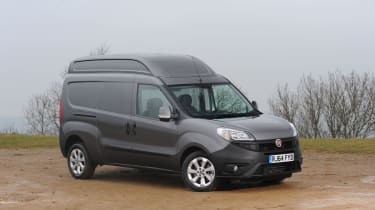 In the engine department, the 1.3-litre MultiJet II unit is as small a diesel as you'll find in a van of this size, but that shouldn't put you off unduly. Fiat has worked to improve refinement across the Doblo's diesel engine line-up and the 95bhp 1.3 is fine for urban work. Keep the revs in check and it is reasonably hushed, but it does become harsh-sounding at the top end.
If you're going to be covering big distances, the 1.6-litre MultiJet II is better. Torque and power have risen with Euro 6, to 105bhp and 300Nm, or 120hp and 320Nm. This gives the larger engine real pulling power, even when fully laden and the 1.6-litre feels stronger and less stressed when extended.
The 6-speed manual gearbox fitted to 1.6-litre models is better than the 5-speed item on the 1.3-litre vans – lighter and less notchy plus more relaxed at higher speeds. The Comfort-Matic auto is no longer offered with EU6 engines.
While the exterior was given an update, Fiat Professional UK chose not to take the interior revisions. This is no doubt partly due to the fact that this model is shared with Vauxhall's Combo, though that will move to a PSA base vehicle for its replacement.
Despite that, the cab remains a spacious, comfortable place to spend the day. There's overhead storage above the windscreen, in door pockets and the seat base on the passenger seat flips up to reveal a very small space to store documents inside. However, rivals offer better cab interiors for object, phone and paperwork storage.
The basic Doblo Cargo can be a pretty sparse, despite funky seat trims, dash colours and some decent quality materials. Build quality isn't the sturdiest in the class with the likes of Ford's Transit Connect and the VW Caddy achieving a more solid feel.
The instrument cluster looks attractive enough but the dials themselves and the digits printed on them are quite small and hard to read at a glance. It's a similar story with the radio where small buttons hamper an attractive design. Fiat could also have improved the impression of quality but simply upgrading the cheap feeling plastic on key touch points like the steering wheel and gear knob would have helped.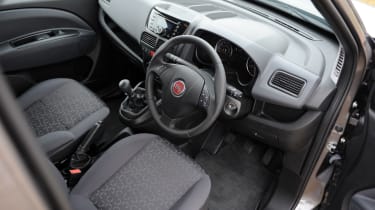 Move up to an SX trim and you get bulkhead soundproofing, a height-adjustable steering wheel, a passenger seat undertray for storage, electric mirrors, high-performance loudspeakers and a radio/CD/MP3 player.
Above the SX is the range-topping Tecnico model, which is about as well-equipped as vans in this sector get. It comes with rear parking sensors, air-conditioning, Bluetooth connectivity and steering wheel-mounted audio controls. Even at this level there's no built-in touchscreen but you do get a powered mounting for a TomTom sat-nav built into the dash top and the nav unit to go in it.
Fiat Doblo Cargo: van dimensions
| | | | |
| --- | --- | --- | --- |
| Body style | Height | Width | Length |
| Short low-roof van | 1,845mm | 1,832mm | 4,390mm |
| Long high-roof van | 2,100mm | 1,832mm | 4,390mm |
| Long low-roof van | 1,880mm | 1,832mm | 4,740mm |
| XL long high-roof van | 2,125mm | 1,832mm | 4,740mm |
| Short low-roof Combi | 1,845mm | 1,832mm | 4,390mm |
| Long low-roof Combi | 1,880mm | 1,832mm | 4,740mm |
| XL long high-roof Combi | 2,125mm | 1,832mm | 4,740mm |
| Work-Up pick-up | 2,049mm | 1,872mm | 4,965mm |
Load area dimensions
| | | | | |
| --- | --- | --- | --- | --- |
| Body style | Height | Width | Length | Volume |
| Short low-roof van | 1,305mm | 1,714mm | 1,820mm | 3.4m3 |
| Long high-roof van | 1,550mm | 1,714mm | 1,820mm | 4.0m3 |
| Long low-roof van | 1,305mm | 1,714mm | 2,170mm | 4.2m3 |
| XL long high-roof van | 1,550mm | 1,714mm | 2,170mm | 5.0m3 |
| Short low-roof Combi | 1,250mm | 1,261mm | 950mm | 0.79m3 |
| Long low-roof Combi | 1,250mm | 1,261mm | 1,300mm | 1.05m3 |
| XL long high-roof Combi | 1,950mm | 1,261mm | 1,300mm | 1.1m3 |
| Work-Up pick-up | 1,368mm | 1,818mm | 2,300mm | 1.54m3 |