Limited Ford Ranger Black Edition pick-up truck revealed
The Ford Ranger pick-up truck gets a dark makeover, and it's coming to Frankfurt later this month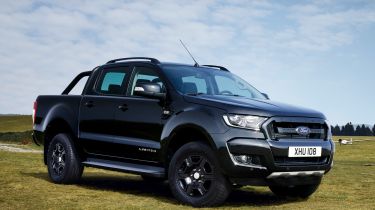 Ford has revealed a new special edition pick-up truck – a Black Edition Ranger, which will be on show at the Frankfurt Motor Show later this month.
It's based on the Ranger in Limited specification, but boasts a blacked out look thanks to an extensive de-chroming job. The body is finished in 'Absolute Black' with a black finish on the radiator grille, while the alloy wheels, rollover bars and exterior detailing is also all-black.
• Best pick-up trucks on sale 2017
In the cabin, the Black Edition trucks benefit from a Ford SYNC 3 multimedia and infotainment system, fronted by an eight-inch touchscreen display. Satellite navigation is included, while dual-zone climate control, leather seats and interior upholstery, and power-folding, heated door mirrors are also added.
The Black Edition is only available as a double-cab pick-up truck only. Engines have not been confirmed, but it should be available with either diesel currently offered on the Ranger Limited - an entry-level 158bhp 2.2-litre unit, or a 197bhp 3.2-litre five-cylinder.
UK prices have not been confirmed, but expect a slight premium over the £29,649 (including VAT) price of the standard double cab Ranger Limited when it arrives on sale after the Frankfurt show, limited to 2,500 units.
Do you like the Ford Ranger Black Edition? Tell us your thoughts in the comments