'Ford's smart move is focusing on cars and mobility solutions'
Out of the big three car makers vying for attention, Ford was the clear winner at the 2017 Detroit show, says Steve Fowler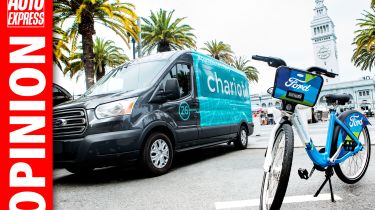 January in Detroit means the usual battle of the big three US car makers to dominate their home show. This year, Ford was the clear winner. 
It may not have had the biggest new model launch (although a revised version of America's top-selling pick-up truck, the F-150, was a fairly major deal), but by running a City of Tomorrow symposium while everyone else was whipping covers off their new models, Ford laid down a pretty big marker as to where its future lies.
CEO Mark Fields reiterated that Ford is now an "auto and mobility company" producing "vehicles, mobility services and transport solutions".
• Detroit Motor Show 2017: news round-up
But it was chatting with former Auto Express Brit List winner and now Ford's global marketing, sales and service boss, Stephen Odell, that the value of these new mobility businesses becomes clear. "The margins in some of our emerging businesses are much bigger," he said. "Sometimes up to 20 per cent."
Odell was quick to point out that vehicles would always be Ford's core businesses, but by branching out into dynamic shuttles like the Chariot business it bought last year and Ford Go bikes, the company is playing a big part in what Mark Fields described as "helping make people's lives betterby changing the way the world moves''.
Fields also revealed how Ford is committed to partnering with cities to deliver mobility solutions, working with organisations like Bloomberg Philanthropies, including former New York City mayor Mike Bloomberg.
Bloomberg appeared via satellite link during Ford's press conference, proudly announcing that he'd driven to work that morning in his (Ford made) Lincoln SUV. Maybe a starting point for these new mobility solutions is for past and present politicians to use them.
What do you think of Ford's future position in the industry? Let us know below...