Ford Focus RS Mountune M400 turns power up to 395bhp
Mountune turns the wick up on the Focus RS, to leave it breathing down the neck of the new Audi RS3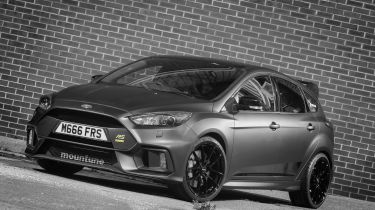 Ford tuner Mountune has revealed a fresh upgrade package for the Focus RS. Called M400, it's priced at £2,912, and ups power from the 2.3-litre turbo to 395bhp and 560Nm of torque.
Mountune doesn't quote any updated performance figures, but the package is expected to dramatically improve on the standard car's 4.7 second 0-62mph time given the 50bhp and 120Nm power boost, placing it into territory currently occupied by the Mercedes-AMG A 45 and the new Audi RS3 Sportback.
• Best hot hatches on sale 2017
It's the second kit for the new Mk3 Focus RS released by Mountune, building on the firm's previous FPM375 package. That took power up to 370bhp, unlocking a 4.5 second 0-62mph time and a top speed of 165mph.
However, unlike other Mountune upgrades – such as the popular package for the Fiesta ST - the M400 pack invalidates the car's warranty.
Included in the pack is a new high-flow induction kit, a new intercooler, an engine management remap, plus a new exhaust system. It also includes mTune features, introducing data logging and a special dyno mode. The kit is modular, so it's possible to spec certain aspects of it rather than buying it outright.
395bhp isn't as hot as Mountune can take the Focus RS though – separate parts above the package, such as forged pistons and block modifications can now take power above 400bhp.
Does the Ford Focus RS really need more power? Tell us your thoughts in the comments below.