Ford Focus RS Mountune upgrades add even more power
Details of even-hotter Ford Focus RS have been revealed, with full Mountune Performance kit getting 375bhp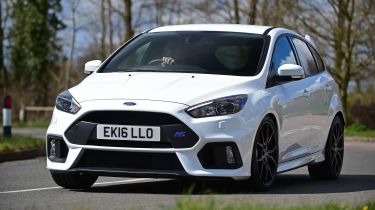 Previously, specialist tuner Mountune announced its Phase 1 and Phase 2 upgrades for the newly launched Ford Focus RS - and now the Phase 3 kit and full details of the Ford-approved kit car have been revealed.
The Phase 3 kit ups power to 375bhp and torque to 530Nm, which is the highest figures yet - this kit costs £1,050. That includes an mTune handset that lets users tune the car to their liking including different exhaust profiles for road or track driving. Plus, the extra induction kit and re-circulation valve means it takes just 4.4 seconds to go from 0-62mph. This upgrade isn't an official one, however - for that you'll want the so-called FPM375 upgrade.
The Ford-approved Mountune upgrades for the Focus RS add an extra 25bhp, up to 370bhp, and peak torque up to 510Nm - an increase of 40Nm. That means the 0-62mph sprint is cut from 4.7 seconds to just 4.5 seconds, though the top speed remains at 165mph.
This upgrade costs just £899 in the UK and takes just one and a half hours at a Mountune-appointed Ford dealer. It retains the full manufacturer warranty, which is for three years or 60,000 miles from the first purchase.
• Ford Fiesta ST Mountune 230 review
The kit itself is made up of an uprated air filter, new ducts and silicone hoses, an upgraded air re-circulation valve and an ECU remap. Michelin Pilot Sport Cup 2 tyres and a Quaife Differential are also available at extra cost, along with the Phase 2 Alloy Intercooler upgrade.
"Ford has a proud history of working with Mountune to unleash even more power from our hot hatchbacks for dedicated performance enthusiasts," said Tyrone Johnson, Ford's engineering boss. "Boosting power to 375 PS launches the already class-leading Focus RS even further ahead of the field."
Mountune Phase 1 and 2 updates
The initial set of parts included a selection of 'easy first-off modifications' including upgraded pipes and hoses, as well as stickier tyres and a new differential. 
• Best hot hatchbacks to buy now
All the parts have been extensively tested on the gruelling Nurburgring race track – as well as on the road and dyno – to ensure perfect fitment, function and reliability. Customers will need to wait a little longer for an outright power boost.
The Mountune store is currently listing all the parts – including the Phase 1 hoses and roll restrictors, as well as lightweight 19-inch OZ Racing wheels and a high flow air filter. You can even buy a yellow gearknob, Mountune floor mats and 'Dynamic Side Splash' stickers for the sills.
Do we need an even faster Ford Focus RS? Join the debate in the comments below...