"As an engine supplier in F1, Honda is an embarrassment"
Mike Rutherford thinks Honda need to exit F1 and instead spend its billions more wisely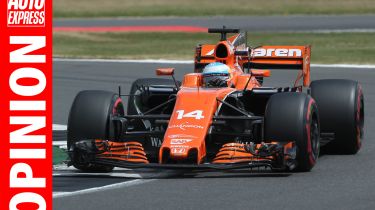 I think of Honda as an old and much-loved friend. It's possibly the nicest firm on Planet Automobile. And its heart is in the right place. As is mine. The company has often hosted me in Japan – at Formula One circuits, test tracks, research centres and at the Tokyo Motor Show.
Also, I feel genuinely honoured that Honda afforded me precious time – at races, social gatherings and in driver coaching sessions – with a handful of its Formula One pilots. I even got to race an NSX against one Honda F1 driver, while another made it a three-way duel by flying a helicopter overhead. Naturally, I came last.
Although it hurts me to say this, the firm's now a shadow of its once glorious self. Truth is, as an engine supplier to McLaren-Honda in F1, Honda is an embarrassment, must exit the sport and instead spend its billions more wisely on things like its largely underwhelming road car range.
The rationale at Honda is that F1 showcases world-class engineering talents, innovation and overall cleverness. Fair enough. But the only thing the firm is showcasing this year is the inability of McLaren-Honda F1 cars to finish races. Then even when they're running 'trouble-free' they're too slow. Mercedes has accrued 330 points at this halfway point of the season, while Ferrari's scored 275, making them the equivalent of Real Madrid and Bayern Munich in the football world.
Meanwhile, over the same period, McLaren-Honda has acquired just two meaningless points and sits at the bottom of the F1 standings, making it the equivalent of Leyton Orient. If it doesn't immediately abandon its humiliating sleepwalk into F1, Honda will continue to seriously harm the reputation of and confidence in the brand and the showroom products. Current and potential buyers want to be associated with success, not failure.
Not that McLaren is an innocent player. It should never have entered into yet another marriage with Honda, as it just can't rely on a third party engine supplier these days. The Mercedes and Ferrari F1 teams are true greats of the modern GP scene, not least because they use their own powerplants.
If McLaren craves the same levels of global success and respect – and it desperately does – it must bite the bullet and somehow install its own engines in its own F1 cars. The engine design and build process, plus the Honda divorce proceedings need to start, like, yesterday.
Do you think Honda should exit F1? Let us know your thoughts in the comments section below...