Honda targeting 15 minute recharge time for 2022 EV
Reports suggest Honda is looking to develop battery tech that will take full advantage of 350kW Combined Charging System tech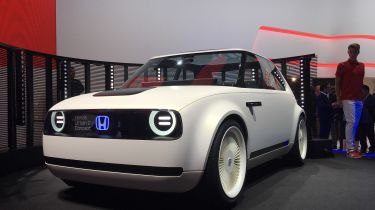 Honda is currently looking to develop technology that will enable future electric vehicles with ranges of around 150 miles to recharge fully in 15 minutes, according to a report issued by Nikkei Asian Review.
The newspaper says that central to this plan will be the development of a new high-capacity battery that can handle ultra-rapid charging. This battery tech could arrive on sale in a range of production Honda EVs in 2022, claims Nikkei.
In order to recharge at such a rate, the vehicles would have to rely on 350kW Combined Charging System (CCS) infrastructure. However, that's precisely the charging standard currently desired by a number of manufacturers and part of an ambitious joint charging network venture of big auto industry names put forward this time last year.
In November 2016, the likes of the BMW Group, Daimler AG, Ford, and the Volkswagen, Audi and Porsche brands signed a Memorandum of Understanding intended to spark the creation of a brand-independent network of 350kW CCS chargers spanning European highways.
Work on the network began earlier this year, and thousands of charging stations kitted to the 350kW standard are expected to be functional by 2020, should everything go to plan.
Nikkei's claims are unconfirmed, though Honda has made a statement of intent to become a player in the EV market. At this year's Frankfurt Motor Show, the firm revealed the eye-catching Urban EV concept – a retro looking electric supermini, that will morph into a production model in 2019.
Would you consider buying an electric car if it could fully recharge in 15 minutes? Tell us in the comments.