Honda Uni-Cub: we drive the office chair unicycle of the future (video)
The amazing Honda Uni-Cub is part office chair, part unicycle and part electric car - we put it to the test on video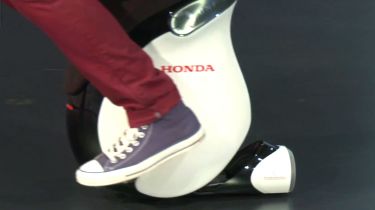 The Honda Uni-Cub is the office chair of the future as it can transport you from desk to desk or even take you home at the end of the day. We tried the very latest Uni-Cub Beta version when we visited the Japanese firm's technology centre in Brussels, Belgium.
Underneath its dinky body, the Uni-Cub Beta has a compact electric motor. This drivers a large single wheel for forward motion. The rim of this wheel is actually made from lots of smaller wheels mounted perpendicular which allow the Uni-Cub to move sideways. All you have to do is lean in the direction you want to go and the Uni-Cub responds naturally. All this allows you to ride it like a unicycle – only you don't have to worry about falling off as stabilisation technology from Honda's humanoid robot ASIMO prevents it falling over.
• Join us on the Auto Express YouTube channel for more great videos  
It doesn't take long to get the hang of it and soon you're gliding around at speeds of up to 4mph. And on a full charge the Uni-Cub's lithium ion batteries have a four-mile range. Honda, actually first showed the Unicub back in 2012. However this is the updated Beta version which is lighter and more compact.  Honda is likely to keep evolving technology as one day Honda hopes to lease Unicubs to companies and organisations hopefully in time for the 2020 Olympic Games in Tokyo…
Now see how we got on with ASIMO, Honda's penalty-taking, bar-tending robot...