New Honda EV to launch on dedicated electric car platform this autumn
All-new EV platform to underpin Honda's upcoming electric car; wireless charging also on the way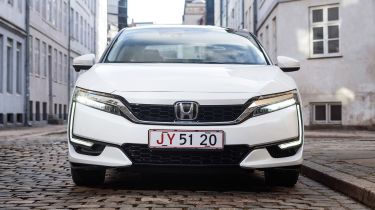 Honda will reveal a new fully electric vehicle this autumn, possibly at this year's Frankfurt Motor Show, Auto Express can reveal. The model will be one of the first vehicles from Honda to be based on a new dedicated EV platform and is likely to showcase a new design language from Honda.
By 2030 Honda wants two-thirds of its global sales to be made up of electrified vehicles. Of that proportion Honda President and CEO Hachigo-san told Auto Express that around 50 per cent will be hybrids and plug-in hybrid models, while fully electric and fuel cell vehicles will make up the remaining 15 per cent.
Hachigo-san, added: "We will strengthen the development of fuel cell vehicles as well as battery electric vehicles. In addition to a China exclusive model scheduled to go on sale in 2018, a dedicated EV model for other regions is under development. We will introduce this model at an auto show this autumn."
Little is known about the vehicle at this stage other than it will be based on a new electric vehicle architecture, which should be able to adopt various other electrified powertrains such as hybrid and plug-in hybrid power. Honda has said the platform will adopt a 'high density, lightweight battery pack'.
Honda also recently established a new Electric Vehicle Development Division to help accelerate product plans, while a tie-up with Hitachi Automotive System in February will see both brands jointly develop new electric motors for future vehicles.
A new ultra fast charging system is also under development, which Honda claims will be able to generate 150 miles of range in just 15 minutes. Wireless charging technology is also being worked on at the same time.
What do you think of Honda's electric car plans? Let us know in the comments…