New Honda Civic Type R will arrive in 2015
Honda CEO confirms that the new Civic Type R is on track for a 2015 debut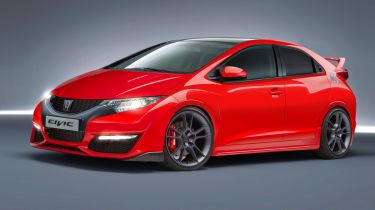 Honda CEO Takanobu Ito has confirmed that a new Civic Type R will be unveiled in 2015, alongside a new fuel-cell electric vehicle. A compact SUV is also set to join the range in the near future.
The new Civic Type R will be developed specifically for Europe and will incorporate developments learned from Honda's experience in the World Touring Car Championship. Ito wants it to be the fastest front-wheel-drive car around the Nurburgring, which means it'll have to beat the Megane 265 Trophy's time of 8 min 7.9 seconds. Honda's UK MD Dave Hodgetts went on to tell Auto Express that the new Type R "will have at least 265bhp... the engineers' target is 300bhp though."
Hodgetts told us that the Civic Type R will begin testing at the Nurburgring in the autumn of 2013, with production set to begin in Swindon ready for an on-sale date some time in 2015. He explained that the handling and throttle response were being developed using lessons learned from Honda's WTCC entry. Hodgetts wouldn't draw on whether the production Type-R would get the same 1.6-litre turbo as the WTCC car but said: "it's possible, but then anything up to a 2.0-litre turbo is possible."
The new Civic Type R will be one of the first of a number of performance models that Honda is looking to produce as a backbone to its whole range. "We want a range that is genuinely perceived to be sporty, but with a range of practical models sitting underneath," said Hodgetts.
One of these more practical cars is a compact SUV, expected to be a Nissan Juke rival based on the next-generation Jazz platform. Hodgetts and Ito both confirmed that a Civic-based SUV-MPV crossover with similar styling to the 2009 Skydeck concept was also under consideration.
As well as confirming a new hydrogen-powered vehicle will be on the roads during 2015 (possibly a successor to the FCX Clarity) Honda revealed it is working on hybrid systems with one, two or three electric motors. The technology will be used throughout Honda's future range, allowing for everything from a 100mpg-plus Jazz to a plug-in hybrid four-wheel-drive NSX supercar. These use the one and the three motor systems respectively, and we were told that the two-motor system is reserved for mid-sized vehicles.
All of the developments mentioned are part of Honda's push to increase its market by 60 per cent worldwide from 23.9 million customers to 39 million by 2017.